90% of TEPCO's annual average profits come from households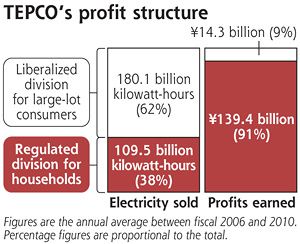 About 90 percent of Tokyo Electric Power Co.'s annual average profits came from sales to households from fiscal 2006 to 2010, even though the amount of power sold to such users accounts for only about 40 percent of the total for the period, according to a recent report.
Given this latest revelation, the power company will likely again face demands for a review of its rate calculation method.
TEPCO recently submitted a summary report outlining its earnings structure to the Economy, Trade and Industry Ministry.
According to the report, presented Wednesday at the second meeting of an expert panel to examine electricity rates, TEPCO sold an annual average of 289.6 billion kilowatt-hours to consumers from fiscal 2006 to 2010. Of this, electricity for households accounted for 38 percent, while that for large-lot consumers accounted for 62 percent.
In terms of sales during the same period, of 4.96 trillion yen generated, the proportions of power sales to households and large-lot consumers were almost the same, with 49 percent and 51 percent, respectively.
However, of the company's 153.7 billion yen profit, 91 percent was generated from electricity sales to households, while only 9 percent came from sales to large-lot users.
Within TEPCO's jurisdiction, gas companies and oil distributors among others are registered as power producers and suppliers (PPS) that can sell electricity to large-lot users.
As a result, a relatively competitive electricity market exists for large-lot consumers, forcing sellers to reduce rates for such users.
Therefore, it is believed TEPCO was trying to ensure its profits from the electricity it sold to households.
Household electricity rates are regulated, with the overall price including costs for power distribution and transmission.
The current system allows a business reward whereby TEPCO can add a fixed portion of its assets related to the electricity business, such as maintaining its power transmission grid, to the rates it charges.
Therefore, the more TEPCO spends on facility investment to increase its power output, the greater its business reward, which can be added on to the regulated household rates.
Experts have pointed out that such a structure makes reduction of household electricity prices difficult.
The expert panel aims to reduce the average 10.28 percent price hike for household electricity rates recently sought by TEPCO.