February 26, 2013
510,000 Bq/Kg from fat greenling caught in Fukushima plant port, over 100,000 Bq/Kg from 30% of the samples
Posted by Mochizuki on February 28th, 2013 ·
http://fukushima-diary.com/2013/02/510000-bqkg-from-fat-greenling-caught-in-fukushima-plant-port-over-100000-bqkg-from-30-of-the-samples/#.US82H7Nvlb4.facebook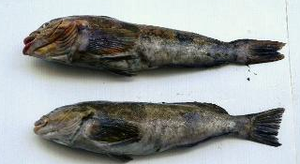 ↑ Fat greenling (This is not the specific issued sample.)
According to Tepco, 510,000 Bq/Kg of Cs-134/137 was measured from fat greenling caught in Fukushima nuclear plant port.
The sampling date was 2/17/2013.
This is the highest reading among all the fishery samples that have ever been caught.
As a reference, this is 5,100 times much as the safety limit though there is no basis about this "safety limit".
Tepco collected 53 fishery samples from the port, but over 100,000 Bq/Kg was measured from 30% of them.
The second highest reading was 277,000 Bq/Kg (Spotbelly rockfish), the average was 73,000 Bq/Kg.
The amount of Sr-90 is not reported.
Highest radiation detected in fish at TEPCO port
http://www3.nhk.or.jp/daily/english/20130228_31.html
Radioactive cesium far beyond Japan's safety limit has been detected in a fish caught near the crippled nuclear plant in Fukushima Prefecture.

Tokyo Electric Power Company, operator of the damaged Fukushima Daiichi plant says the rock trout contained 510,000 becquerels of cesium per kilogram.

That's the highest ever detected in fish and about 5,100 times the government safety limit.

The utility caught the fish on February 17th in a net put up around its own port at the plant.

TEPCO installed the net about a week before to contain contaminated marine life after detecting high levels of cesium in fish and shellfish caught in the port.

A fish caught in December at the same port contained 254,000 becquerels of cesium per kilogram.
The new record is about twice that amount.

TEPCO says it will step up efforts to keep fish within the port and exterminate them