JAXA develops camera that can 'see' radioactive contamination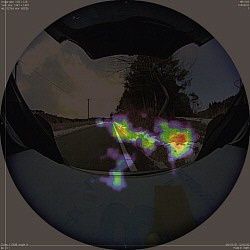 A photograph taken in Iitate, Fukushima Prefecture, with a prototype camera developed by JAXA that is capable of capturing images of radioactive contamination. The red parts in the photograph show the highest radiation levels detected. (Photo courtesy of JAXA)
http://mdn.mainichi.jp/mdnnews/news/20120329p2a00m0na006000c.html
The Japan Aerospace Exploration Agency (JAXA) and the Japan Atomic Energy Agency (JAEA) have developed a prototype camera that can "see" radioactive contamination, officials said on March 29.
The new camera detects gamma rays emitted by radioactive cesium and other substances, and creates a wide range of images of radioactive contamination.
The total amount of gamma rays emitted by cesium 137 and 134 are captured in six different colors in an image taken with a wide-angle lens, with red representing the highest and yellow second highest radiation levels.
The new development makes it possible to easily grasp where radioactive substances spewed from the stricken Fukushima No. 1 nuclear plant have accumulated, and is likely to help decontamination work in the affected areas, officials say.
In February this year, JAXA and JAEA tested the prototype camera in several locations in Fukushima Prefecture, including supermarkets and roads in the village of Iitate -- part of the nuclear disaster evacuation zone -- and confirmed its effectiveness.
According to the agency, images produced with the new camera are more precise than those taken with imaging equipment currently in use at the crippled nuclear plant.
Click here for the original Japanese story
Newly-developed cameras can "show" radiation
http://www3.nhk.or.jp/daily/english/20120329_25.html
Japanese researchers have developed a super-wide angle digital camera capable of depicting radiation in the environment.

The camera, developed by the Japan Aerospace Exploration Agency, is an application of a technology used in gamma ray detectors aboard a space probe.

A gamma-ray detector installed in the camera shows levels of radiation on buildings and the landscape in six colors according to radiation intensity.

The prototype camera can capture images at an angle of nearly 180 degrees, three times wider than existing models.

Images shot during a field test in February show a wide area of contamination by radioactive cesium on the ground and wall of a supermarket in Iitate Village, located within a mandatory evacuation zone.

The camera has been developed at the request of the Tokyo Electric Power Company, the operator of the Fukushima Daiichi nuclear plant.

Professor Tadayuki Takahashi of the space agency says his team will work to make the camera lighter so that it can help in environmental decontamination operations