March 13, 2013
3 men searched for people in no-go zone without protective gear for 1 month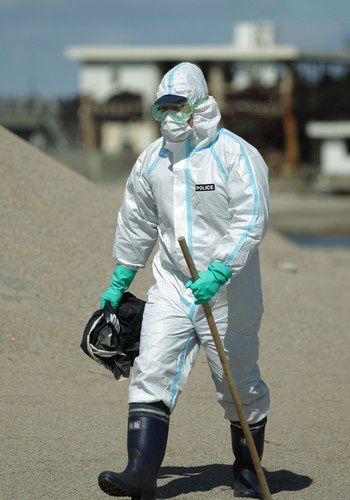 A police officer in protective gear is seen in the exclusion zone around the Fukushima No. 1 nuclear plant on March 11, 2013. The search for people still missing two years after the March 2011 disasters continues. (Mainichi)
http://mainichi.jp/english/english/newsselect/news/20130313p2a00m0na009000c.html
Three officials of the Futaba Municipal Government near the crippled Fukushima No. 1 Nuclear Power Plant, wearing no radiation protective gear and carrying no dosimeters, were engaged in work in no-go zones to search for people who went missing from the tsunami for nearly a month shortly after the outbreak of the crisis on March 11, 2011, it has been learned.
Yet, nothing has been done so far to assess the estimated cumulative exposure to radiation for the three men. An expert said, "It was a well-known fact at that time that levels of radiation were high in evacuation zones. The government's responsibility is great for having failed to give proper instructions. Follow-up investigations (into their radiation exposure) must be done."
At that time, the government's Nuclear Emergency Response Headquarters established standards for entering evacuation zones based on relevant laws, requiring people concerned to wear protective gear and carry dosimeters. But the latest finding clearly discloses how much the central and local governments were confused even one to two months after the outbreak of the nuclear disaster.
According to officials of the Futaba Municipal Government, the three men in their 30s to 50s at the time took turns to observe search activities conducted by police and firefighters in Futaba's Nakano district and other areas along the coast in the evacuation zone from April 22 to May 19, 2011. Their role was to determine where bodies were found -- either Futaba or its neighboring town -- in situations where bodies were found near the border between the two towns. They were also engaged in work to carry mortuary tablets, photo albums and other things found in the search areas to a storage facility at their local government office.
When they were ordered to carry out the mission to observe search activities, they were not instructed or briefed by the local government to wear dosimeters and protective gear nor to evaluate and keep records of their radiation exposure. At that time, the official functions of the Futaba Municipal Government had already been transferred to Kazo in Saitama Prefecture. But before the local government was evacuated, there were dosimeters kept in reserve at the local government office in Futaba, but all of them are said to have been damaged by the earthquake.
Fukushima Prefectural Police required people engaged in search activities to be fully equipped with such things as protective gear, and each group of searchers to carry at least two dosimeters and report their external radiation exposure to its disaster security headquarters. Furthermore, before and during search activities, safety management support teams were measuring levels of atmospheric radiation over the search areas.
According to Fukushima Prefectural Police, a total of about 25,700 people were engaged in search activities in evacuation zones and other areas that fall within the jurisdiction of Futaba Police Station and Minamisoma Police Station from March to May 2011, and their cumulative external radiation exposure was each below 5 millisieverts (ordinarily, a person is exposed to radiation of up to 1 millisievert per year).
Muneshige Osumi, public relations chief at the Futaba Municipal Government, told the Mainichi Shimbun, "We want to set the record straight." Muneyuki Shindo, professor emeritus at Chiba University, stressed the need to make the government's responsibility clear and conduct follow-up investigations. "Manuals for crisis management measures against this type of accident need to be prepared on the assumption that nuclear accidents could occur in other municipalities hosting nuclear power stations."