December 6, 2012
Nuclear foes face election dilemma
http://www.japantimes.co.jp/text/nn20121206f2.html
By MIYA TANAKA
Kyodo
Tokyo fashion designer Yasuko Maruko, 44, is an absolute beginner when it comes to becoming a politician, yet she is bidding for a seat in the Diet in the Dec. 16 general election in the hope of steering Japan toward a future without nuclear power.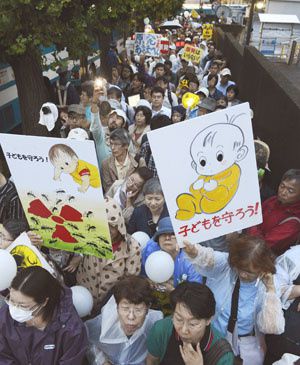 United: People hold signs reading "Protect Children" and "No to Nuclear Power" during an antinuclear energy rally near the prime minister's office in July. KYODO
Getting together the ¥6 million deposit for her candidacy was not easy for Maruko, a mother of two daughters. But the main purpose of her attempt is to show that the country's growing antinuclear grassroots movement is heading to the next stage of sending people to the Diet, following massive protests after the Fukushima No. 1 plant meltdown crisis started last year.
"I thought I needed to get involved in politics because after all, collecting petition signatures and joining demonstrations and rallies will not bring about major changes in government policies," she said.
But it remains uncertain to what extent the momentum of the antinuclear movement will show in the form of actual votes in the Lower House election, with some experts pointing to the lack of a new party that can attract nuclear opponents en masse.
"Many voters, including those who are concerned about nuclear issues, are fed up with established parties. But the moves made by new parties have also been confusing, with their images tarnished by joining hands with some old elements of Japanese politics," said Aiji Tanaka, a political science professor at Waseda University.
Major players in the general election, the first since 2009, include the ruling Democratic Party of Japan, the Liberal Democratic Party and two new forces — Nippon Ishin no Kai (Japan Restoration Party), founded by high-profile Osaka Mayor Toru Hashimoto, and Nippon Mirai no To (Tomorrow Party of Japan) launched by Shiga Gov. Yukiko Kada only about a week before the start of official campaigning Tuesday.
Moves to create the new group led by Kada accelerated after Hashimoto was seen to water down his antinuclear stance as a result of merging his party with a party led by former Tokyo Gov. Shintaro Ishihara, who is against the elimination of nuclear power and has even suggested Japan pursue the bomb.
Kada's party brings together small parties that share her tough stance against nuclear power. Her call for Japan to "graduate from nuclear power in 10 years" is a more aggressive antinuclear stance than that of the DPJ, which aims to phase out nuclear energy by the 2030s and that of the LDP, which is against total abolition.
But what has stirred controversy is that she plans to team up with Ichiro Ozawa, a former DPJ head dubbed the "destroyer" for his history of forming and breaking up political parties.
Tanaka said Ozawa's existence may make Nippon Mirai no To less attractive to voters who want to back candidates from a party promising a nuclear-free country.
"People seriously concerned about nuclear power may hesitate to choose the party, wondering whether Ozawa had ever been a nuclear opponent when he was the LDP's secretary general or a DPJ member. . . . His motivation is probably to use Kada's party as a tool to hold the casting vote in the political arena (in the event that neither the LDP nor the DPJ wins a majority)," he said.
Toshiro Kojima, an environmental policy professor at Aoyama Gakuin University, thinks having Ozawa is not necessarily a disadvantage because he has party management ability and usually sticks to what he says, but noted there may be concerns that Kada may end up as his puppet.
In a sign that voters are facing difficult choices, people who gathered in front of the prime minister's office on Nov. 30 for one of the Friday night antinuclear demonstrations varied on which party they plan to support.
Some said they will vote for Nippon Mirai no To candidates, but a 32-year-old company employee from Chiba Prefecture, Yuki Shimotake, said she plans to vote for the Japanese Communist Party for the first time because she wants to see nuclear power eliminated immediately, and not over a 10-year span as advocated by Kada.
Meanwhile, another 37-year-old woman, who asked not to be named because she is a part-time civil servant, said she has not yet decided which party to back.
She also said she remains doubtful whether antinuclear movements among ordinary citizens will affect the outcome of the election.
"When I come here (to join the demonstrations), I feel there is a lively mood. But there is a difference in the degree of enthusiasm when I meet my acquaintances. Many of them look like they have given up about their future," she said.
Maruko, a regular attendant of the weekly rallies, has secured the backing of Kada's party to run in a single-seat constituency in Tokyo, and hopes the poll will bring change to a country that appears to be having difficulty in ending its reliance on nuclear energy, with two reactors in Fukui Prefecture restarted last summer, despite the total shutdown of all other reactors in Japan.
"What I always say in my stump speeches is that each vote counts to make a change. We cannot miss this opportunity," she said.