February 4, 2013
Robot to check popular Fukushima lake for radiation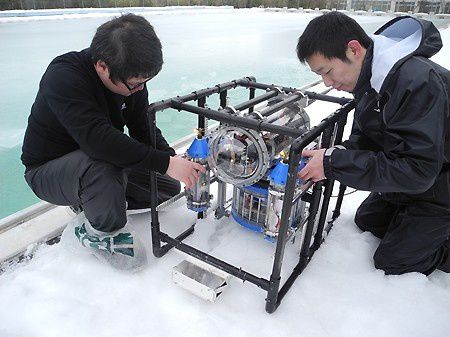 A robot that will test lake soil and water for radioactive contamination is seen on Jan. 25 in Fukushima. (Mainichi)
http://mainichi.jp/english/english/newsselect/news/20130204p2a00m0na010000c.html
FUKUSHIMA -- Researchers plan to use a robot to check radiation levels in a popular lake here in response to fears about radiation contamination from the crippled Fukushima No. 1 Nuclear Power Plant.
Speculation has arisen that radioactive material may have been carried by rivers and other means into Inawashiro Lake.
The prefectural government reported in June and September last year that no radiation had been detected during water tests on the lake, but they did not test the soil at the bottom of the lake.
"The worst situation is not knowing the truth. If we know the level of contamination, we can respond to that," says Takuya Omuro, 25, a graduate student who was involved with the robot's development, led by Fukushima University robotic technology professor Takayuki Takahashi.
To check the soil, the researchers will use a robot they have been designing since autumn 2010 to study organisms in the lake. The robot is equipped with a camera and has a shovel fixed to its frame. From late February onward, the robot will be controlled remotely to collect soil and water from the lake, and collected samples will be tested for radioactive material. Researchers plan to create a distribution map of radioactive material in the lake.
The researchers are also planning an experiment that will use a dosimeter in place of the shovel, to take real-time measurements of radiation levels.
Inawashiro Lake is popular with tourists in the summer, but last year the number of visitors stood at around just 60 percent of pre-disaster levels. The lake stretches across three municipalities, the governments of which are hoping the measurement project will erase tourists' fears of radiation.