July 12, 2012
Ukraine and Japan's radioactive bond
By EDAN CORKILL
Staff writer
http://www.japantimes.co.jp/text/fa20120712a1.html#.T_6wY5FIwpU
Bedecked in an odd yellow protective suit and wandering through a ruined landscape, the figure could be a member of the first landing party of an invading alien army. And yet, to the Ukrainian audience at the current Kiev Biennale, the scene is immediately recognizable, for it comes from their own recent history. It's Chernobyl.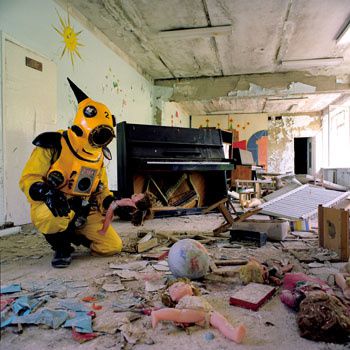 Sharing history: "Atom Suit Project: Nursery School 4, Chernobyl" (2003) by Kenji Yanobe COURTESY OF YAMAMOTO GENDAI, TOKYO
Taken in 1997, the photograph is by Japanese artist Kenji Yanobe, and it's part of a series of works based on the theme of "revival," particularly in the face of devastating man-made disasters, such as the nuclear accident that occurred in 1986 at Chernobyl, in what is now northern Ukraine. The works, which also reference Japanese pop culture with their robotlike suits and presumptions of impending Armageddon, have made the 46-year-old artist one of Japan's best known internationally. Earlier this year, he was invited by The Japan Foundation to show his art in Moscow — the latest in a long string of international shows stretching back more than 15 years.
But it wasn't until this, the inaugural Kiev Biennale, that Yanobe gained the courage to take his works back to Ukraine, where they would be viewed by the people who suffered most in the accident from which he has long drawn inspiration.
"To be honest, I think what made it possible for me to show the works in Kiev was Fukushima," the artist told The Japan Times recently in Tokyo. "Without such an accident occurring in Japan, I don't think I could have brought myself to do it."
Yanobe's artworks are displayed on the ground floor of the biennale venue — a sprawling 18th-century quadrangle across the road from Kiev's famed Lavra monastery. He and many of the other 100 artists who had been included in the event by artistic director David Elliott (who led Tokyo's Mori Art Museum from 2001 till 2006) were present at its opening on May 23.
Over the ensuing few days, a steady stream of locals filed through the venue, many pausing lengthily at Yanobe's works.
Zenya Marchenko, a 26-year-old artist from Donentsk in Ukraine's east, explained that her mother was pregnant with her when the accident at Chernobyl occurred.
Yanobe's photograph, "Nursery School 4: Chernobyl 1997," shows the yellow-suited Yanobe looking through an abandoned kindergarten. Toys are strewn across the floor, and the alien-like visitor appears to be observing them fondly, pitifully.
"He discovered the history of Ukraine, the local history of Chernobyl," Marchenko said. "It is the childhood of children of Ukraine (who were) born in this kind of place. It is a very sad story, but it's history."
Marchenko added that her uncle, who had been working near Chernobyl at the time of the accident, fell sick and died six months later.
Yanobe told The Japan Times that his trip to Chernobyl in 1997 was the culmination of a shift in his career that had started two years earlier, in 1995.
"In the early 1990s I was making works on the theme of 'survival,' " he explained. One of his most celebrated pieces from that time was called "Tanking Machine," a round reinforced steel tank filled with a sodium chloride solution that was heated to body temperature. It formed a kind of womb in which an adult could be kept in a blissful state, oblivious to and safe from the outside world.
"Tanking Machine" was rooted less in any actual necessity than in the escapist fantasies of Yanobe's generation — and in particular, its legions of otaku manga and anime obsessives.
Then in 1995, Japan was struck by the Great Hanshin-Awaji Earthquake, which killed more than 6,000 people, and two months later Aum Shinrikyo perpetrated the sarin gas attack on the Tokyo subway.
"I had been making works on the theme of survival when all of a sudden survival became a necessity," Yanobe said. "My works started to seem like parody."
The chastened artist decided to shift his focus from self-serving survival-as-otaku-adventure to the idea of "revival" after the kind of calamities that really did threaten humankind. That was when he packed his bags for Chernobyl to create his photographs.
Fifteen years later and the works are receiving a positive, if emotional, response from the Ukrainian visitors to the biennale.
"I have never been to Chernobyl, but I understand exactly what the artist means," said Iler Bondr, 35. Like Marchenko, she also blamed the accident for an illness that ultimately killed one of her relatives — in her case, her father.
Surveying "Nursery School 4: Chernobyl 1997," she said, "A lot of people left things behind that they couldn't take with them."
For Yanobe that particular photograph had another, more subtle meaning, too. "If you look closely you can see there is a child's drawing of a sun on the wall," he said. "I read from that the idea of rebirth from devastation, a revival."
That same image of the sun has since become a recurring theme in Yanobe's art — an optimistic assertion that even in the face of adversity, there is hope.
Ironically, however, this same optimism had long made Yanobe uncomfortable about showing the work in Ukraine. "It is difficult to present a positive message to people who actually had to live with the accident," he said.
But that changed with last year's Fukushima nuclear power plant accident. "I think the Ukrainians are now less likely to see me as being patronizing and more likely to see me as being someone from a country with a similar problem. I'm now a conduit for sharing our experiences," he said.
That sharing has also occasioned some unexpected reactions. For one, everyone in Ukraine seems convinced that Fukushima's accident was "much worse" than Chernobyl's.
"When Chernobyl happened there were no blackouts. But in Japan there was no electricity, so that shows it was much worse," Marchenko said.
Yanobe added that in Moscow there was a similar reaction. "When Chernobyl occurred, Japan was critical of the Soviet Union, so when I showed similar work in Russia, there was a palpable attitude of something like, 'Look who's caused the accident now,' " he reported.
Still, the experience in Ukraine has been positive, and Yanobe is now keen to show his work near the site of Japan's nuclear accident, too. He is currently trying to raise funds so that "Sun Child," a 6.2-meter fiber-reinforced plastic sculpture he made last year, might be included in the upcoming "Fukushima Biennale," a troublingly underfunded event that will be held at Fukushima Airport in August and September.
Like the child's drawing hidden in the ruined nursery in Chernobyl, "Sun Child" also contains clues to the artist's belief that hope lives on, even in the face of adversity. It depicts a young boy wearing a yellow radiation suit, but the boy has removed his helmet and the Geiger counter on his chest is displaying a reading of 0.
"Arsenale 12: The First Kyiv International Biennale of Contemporary Art" (www.arsenale2012.com) continues through July 31. Fukushima Biennale (www.wa-art.com/bien) is scheduled for Aug.11-Sept. 23.