Reporters visit cherry blossom beauty spot lost to Fukushima nuke disaster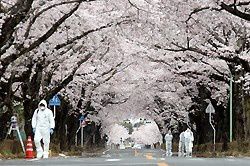 Reporters and municipal staff in white protective suits walk along the "flower tunnel" in Tomioka, Fukushima Prefecture, inside the nuclear disaster exclusion zone on April 19. (Mainichi)
TOMIOKA, Fukushima -- The cherry blossoms are in full bloom here, and as in years past people have come out to see them, strolling beneath the pink canopy. However, unlike years past, the visitors have not come with picnic baskets and plenty to drink, but clad in white protective suits and masks. For Tomioka is a ghost town, lost to the Fukushima nuclear disaster.
The most glorious blossoms to be seen in the town, deep in the exclusion zone around the Fukushima No. 1 nuclear plant, are in Yonomori Park, which was opened to the news media on April 19. The centerpiece of the park is the "flower tunnel" -- about 2.5 kilometers of road running beneath cherry tree branches clad in powder pink blossoms. The road was the symbol of the town and a prime spot for cherry blossom viewing parties.
The nuclear disaster, however, put an end to all that, as all some 16,000 townspeople were forced to evacuate, and are now scattered across the country. However Tomioka Municipal Government officials decided that "at the very least" they wanted to show residents "the cherry blossoms of our hometown" via the media and allowed reporters into the exclusion zone.
What resulted was perhaps a much quieter than usual cherry-blossom viewing, with municipal staff and reporters wandering along the road in their white suits, birds chirping in the tree branches.
There are about 2,000 cherry trees planted in and around Yonomori Park. The first 300 were planted in 1900 to commemorate the settling of the town.
"I hope that by next year the evacuation order will have been lifted, so that the townspeople will be able to have their cherry blossom parties here again," a municipal official commented.