March 3, 2012
Local gov'ts, farmers struggle with hundreds of tons of radiation-tainted rice straw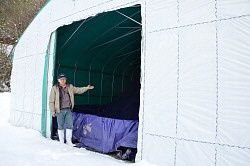 A "pipe house" built by cattle farmer Junichi Sasaki in Ichinoseki, Miyagi Prefecture, is seen in this photo taken on Feb. 26, 2012. (Mainichi)
http://mdn.mainichi.jp/mdnnews/news/20120303p2a00m0na012000c.html
Local governments and farmers in Iwate and Miyagi prefectures have been struggling unsuccessfully to dispose of hundreds of metric tons of rice straw, sewage sludge and ash tainted with radiation from the crippled Fukushima No. 1 Nuclear Power Plant.
The central government has been trying to take steps to deal with the problem, which was largely unexpected before the outbreak of the nuclear crisis caused by the March 11, 2011 Great East Japan Earthquake and tsunami, but there are no signs yet of the problem being solved anytime soon.
Junichi Sasaki, a 61-year-old cattle farmer in Ichinoseki, Iwate Prefecture, has been working tirelessly to move radiation-tainted rice straw into a "pipe house" he recently built.
"At long last, I've moved a step forward. But this is just the beginning," he said.
Sasaki has about seven tons of rice straw to dispose of. He recently built a snow-resistant "pipe house" near his livestock barn far from town so that he can keep rice straw there temporarily in collaboration with other farmers in the neighborhood. Prefectural and local governments are supposed to check the radiation levels of the rice straw there every three months.
Sasaki also has about 140 tons of barnyard manure from his cattle, which were fed tainted rice straw. But he has not been able to dispose of it because the central government has not come up with a clear policy.
"If the situation goes on like this, it will discourage young successors and the local cattle industry will collapse," he said.
Roughly 600 tons of tainted rice straw remains in Iwate Prefecture, about 400 tons of which is in Ichinoseki. The Ichinoseki Municipal Government tried to a build a temporary storage facility in a mountainous area on city-owned land, but the plan drew strong opposition from people living near the planned site, who questioned whether it would be 100 percent safe. The local government then proposed to build four smaller disposal facilities spread across the city, but that idea was not accepted either. Farmers have accordingly been unable to get rid of their tainted rice straw.
Ichinoseki Mayor Osamu Katsube commented: "The government showed Fukushima Prefecture its plan to build a temporary storage facility, but it hasn't shown anything to local municipalities around Fukushima Prefecture. Yet radiation doesn't have boundaries."
Miyagi Prefecture faces a similar problem. On the evening of Jan. 31, the prefectural and municipal governments held a briefing in Kurihara on storing of tainted rice straw for local residents. About 70 local residents who attended the briefing session reluctantly accepted the plan, saying, "We don't agree but it can't be helped." A temporary storage facility is scheduled to be built within the city's Tsukidate district, and rice straw is expected to be brought into the facility in March. It is only the Tsukidate district in the city which has accepted the city's plan to build storage facilities. Three other districts in the city stand firm against the plan to build storage facilities there, and therefore the prefectural and city governments are planning to hold another briefing sometime after mid-March.
According to the Miyagi Prefectural Government, about 4,800 tons of tainted rice straw remains in the prefecture, and only about 2,880 tons of it can be stored temporarily in the foreseeable future. Cattle farmers who cannot dispose of tainted rice straw in temporary storage facilities are worried, saying, "It will affect our cultivation work starting this spring."
Miyagi Gov. Yoshihiro Murai told a news conference in January, "The government should take responsibility for securing temporary storage facilities, disposing of tainted rice straw and formulating health-hazard standards, and explain the situation to prefectural residents." He insisted that the prefectural government would take action only after the central government makes a decision.
Click here for the original Japanese story
6,800 tons of radiation-tainted rice straw left lying in 8 prefectures
http://mdn.mainichi.jp/mdnnews/news/20120303p2a00m0na010000c.html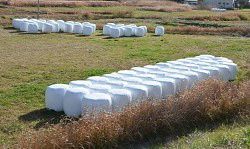 Packed rice straw is laid on an idle rice paddy in Ichinoseki, Iwate Prefecture on Dec. 13, 2011. (Mainichi)
Some 6,800 metric tons of rice straw contaminated with radioactive substances leaked from the crippled Fukushima No. 1 Nuclear Power Plant remains in eight prefectures with no immediate prospect of disposal, the Mainichi has learned.
Moreover, sludge generated from radiation-contaminated waste water as well as ash tainted with radioactive materials amounts to some 97,000 tons in 12 prefectures -- 3.6 times the figure as of July last year, according to the Land, Infrastructure, Transport and Tourism Ministry.
Even though waste containing up to 8,000 becquerels of radiation per kilogram can be buried under national government standards, efforts to dispose of such waste have made little progress, showing that the government's countermeasures have not been properly implemented.
"Local bodies haven't been able to dispose of such waste partly because residents worried about contamination have voiced opposition to disposal of such waste in their own prefectures," a ministry official commented.
Tainted rice straw used as feed for beef cattle has proven to have contaminated the animals with radiation.
Miyagi Prefecture has the largest store of tainted rice straw, with 4,800 metric tons, followed by Fukushima with 1,100 tons, Iwate with 600 tons and Tochigi with 320 tons.
Fukushima Prefecture also had 30,000 tons of sludge and ash tainted with radioactive cesium at its sewage treatment facilities as of Feb. 3 -- the largest amount among Japan's prefectures and 25,220 tons more than in July last year. It was followed by Miyagi Prefecture with 22,000 tons (up 19,900 tons from July), Kanagawa with 19,000 tons (an increase of 14,690 tons), and 9,500 tons in Saitama (6,790 tons more than in July).
Click here for the original Japanese story