January 9, 2013
Installment of cover for fuel removal begins at Fukushima plant reactor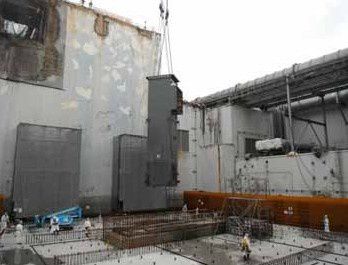 The No. 4 reactor at the Fukushima No. 1 nuclear plant where installment of a cover for fuel removal has begun. (Photo courtesy of TEPCO)
http://mainichi.jp/english/english/newsselect/news/20130109p2a00m0na001000c.html
FUKUSHIMA -- Workers began installing a special cover to be used in the removal of spent nuclear fuel from the No. 4 reactor at the stricken Fukushima No. 1 Nuclear Power Plant.
The installment began Jan. 8 as part of efforts by the government and plant operator Tokyo Electric Power Co. (TEPCO) to decommission the nuclear plant, and is expected to be completed around October. Removal of fuel rods from the spent fuel pool is slated to begin the following month.
The greatest number of fuel rods of the plant's reactors, some 1,533 rods -- 1,331 spent and 202 unspent -- are currently being stored in the No. 4 reactor fuel pool.
The roof of the cover will be approximately 53 meters high. The interior is fitted with a ceiling crane, which will require 87 steel columns for support, and a fuel handling machine, which will require 18 support columns. Two steel columns were installed on Jan. 8.
The fuel removed from the No. 4 reactor fuel pool will be stored temporarily in a separate pool on the plant grounds with a maximum capacity of 6,840 fuel rods, of which some 6,375 spent fuel rods have been stored there since before the nuclear crisis. An additional fuel storage facility will be constructed on the plant grounds, where previously stored fuel rods will be transported via dry casks to make room for the fuel from the No. 4 reactor fuel pool.