May 24, 2012
Even with N-power, reducing emissions is hard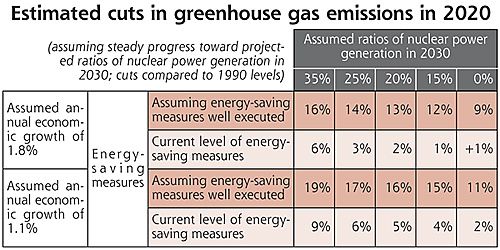 Japan may be able to cut greenhouse gas emissions only by up to 19 percent in 2020 from 1990 levels under a scenario that would see the ratio of nuclear power generation reach 35 percent by 2030, according to estimates released Wednesday by an Environment Ministry council.
The Central Environmental Council's estimates suggest it will be difficult for Japan to achieve the Democratic Party of Japan-led government's target of a 25 percent reduction in greenhouse gas emissions by 2020--even if it purchases emissions quotas from overseas.
The council compiled the estimates in the wake of the crisis at the Fukushima No. 1 nuclear power plant following the earthquake and tsunami on March 11, 2011.
It first assumed five different government-set nuclear power generation ratios for 2030--35 percent, 25 percent, 20 percent, 15 percent and 0 percent. Nuclear power accounted for 26 percent of the nation's power supply before the disaster.
The council also took into consideration renewable energy, and assumed three different levels of energy-saving measures. It also considered two different economic growth rates. Based on these factors, the council calculated how much Japan would be able to reduce emissions for 30 different scenarios.
According to the estimates, greenhouse gas emissions could be cut 6 percent to 19 percent if nuclear power generation accounted for 35 percent of total electricity production in 2030.
If the ratio is reduced to 15 percent--an assumption based on a government policy to restrict nuclear reactor operations to 40 years--emissions could be reduced by 1 percent to 15 percent.
The estimates also showed that reduction rates would only reach 11 percent at most if nuclear power generation reached 0 percent. In this scenario, greenhouse gas emissions would increase by 1 percent if Japan achieved a growth rate of 1.8 percent.
The largest reduction in greenhouse gas emissions can be achieved if Japan sets its nuclear power generation ratio to 35 percent. This, however, is considered unlikely by the Central Environmental Council, as well as an Economy, Trade and Industry Ministry committee dedicated to researching power generation ratios for 2030.
The 25 percent reduction target submitted to the United Nations also includes overseas emissions quota purchases and carbon sinks, in which natural reservoirs such as forests absorb carbon dioxide, but it does not specify how these methods can contribute to a reduction in greenhouse gas emissions.
Under the Kyoto Protocol, a framework for greenhouse gas reductions from 2008 to 2012, Japan calculates that overseas emissions quota purchases can cut emissions by 1.6 percent and carbon sinks by 3.8 percent.