February 16, 2013
Toshiba, gov't show off nuclear decontamination robot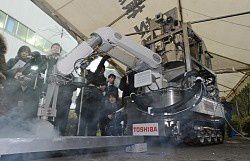 A decontamination robot is seen at a demonstration in Isogo Ward, Yokohama, on Feb. 15. (Mainichi)
http://mainichi.jp/english/english/newsselect/news/20130216p2a00m0na016000c.html
YOKOHAMA -- Workers at the Fukushima No. 1 nuclear plant are about to get a technological helping hand in the form of a decontamination robot unveiled here by Toshiba Corp. and the Japanese government on Feb. 15.
Designed to clean the ground level floors, walls and ceilings of the plant's reactor buildings, Toshiba and the Ministry of Economy, Trade and Industry hope the robot will reduce radiation levels enough to allow human workers to enter and move ahead with disassembling the stricken reactors.
Operated using a game console controller and touchscreen, the robot sprays fine dry ice from the end of an arm to remove radioactive material from surfaces. It also sucks up the material to keep it from spreading. The robot has been designed to withstand radiation levels of up to 3 sieverts per hour.
According to Toshiba, sprayed dry ice is also used to remove paint from airplanes and is not a deep cleansing method, able to remove only radioactive material less than a millimeter from the surface.
"We will test its decontamination effectiveness in the future," said a Toshiba representative.
According to the industry ministry, around 2 billion yen in subsidies was set aside in the fiscal 2012 budget for research into robots to help disassemble the Fukushima reactors. The ministry plans to request a further 8.68 billion yen for fiscal 2013.
Toshiba develops equipment to clean up radiation using dry ice particles
http://ajw.asahi.com/article/0311disaster/fukushima/AJ201302160051
Media representatives receive a demonstration of decontamination equipment developed by Toshiba Corp. (Ryo Kato)
February 16, 2013
Toshiba Corp. has shown off heavy machinery it developed to clean up radioactive materials using dry ice particles.
It sprays dry ice particles by remote control to remove radioactive materials from the floor and walls inside reactor buildings.
The equipment will be tested at the Fukushima No. 2 nuclear power plant from Feb. 18.
Plans call for using it at the stricken Fukushima No. 1 nuclear power plant from this summer.
The device comprises two carriages that are operated by controllers with 100 meters of cable attached. An arm on the carriage sprays dry ice particles to remove radioactive materials and a separate hose vacuums up the materials.
The equipment can operate continuously for 30 minutes.
According to Toshiba officials, development costs came to several tens of millions of yen, half of which was covered by the Ministry of Economy, Trade and Industry in the form of subsidies.
The central government has earmarked 100 billion yen ($1.1 billion) in the supplementary budget for fiscal 2012 and the initial budget for fiscal 2013 for research expenses associated with the decommissioning of nuclear reactors.
The ministry organized a demonstration of the equipment to the media on Feb. 15.