July 2, 2014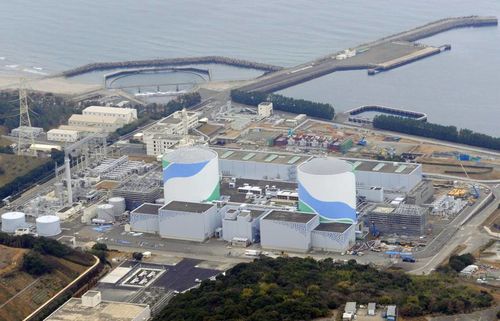 Kyushu Electric Power Co.'s Sendai Nuclear Power Plant in Satsumasendai, Kagoshima Prefecture, expected to go back online as early as September, is seen in January. Residents in the neighboring city of Ichikikushikino have complained that government plans on their mass evacuation in the event of a nuclear disaster have missed key points. | KYODO
Evacuation plans stir fresh doubts over Japan nuclear restarts
Reuters
ICHIKIKUSHIKINO, KAGOSHIMA PREF. – Keen to restart nuclear power plants three years after the Fukushima disaster, authorities may face an additional hurdle in securing approval — coming up with a cogent evacuation plan in the event of new accidents.
The problem has come into focus as procedures for the first proposed restart enter the home stretch in Ichikikushikino, a town 5 kilometers from Kyushu Electric Power Co.'s Sendai plant.
The government, facing the first summer in 40 years without nuclear power, is fielding complaints from residents who say key points have been missed in planning for any mass evacuation.
Local authorities approve restarts, but Ichikikushikino, as it is only a neighboring town, does not get any final say in the matter. That didn't stop more than half its 30,000 residents from signing a petition opposing it.
"The (evacuation) plan itself is very sloppy, just slotting bits and pieces into a manual without giving any consideration to the special features of the area," said Zenyu Niga, a Buddhist monk whose mountainside temple overlooks the Sendai plant.
Residents say a narrow road designated as an evacuation route regularly floods at high tide. A day care center has no evacuation plan at all. One evacuation center is a run-down building with limited space.
Niga, who was attending a public meeting where officials explained evacuation plans, said he feared the region, served by three congested highways, could face panic in an evacuation.
"I feel very worried after seeing what happened in Fukushima," he said.
An earthquake, tsunami and multiple meltdowns at the Fukushima No. 1 plant in March 2011 marked the worst nuclear disaster since Chernobyl in 1986. Some 150,000 residents left surrounding areas.
Sixty people died, mainly elderly patients herded onto buses from hospitals and nursing facilities. Others ended up in areas found to have higher radiation levels than the places they left.
Stricter safety standards have been put in place and Prime Minister Shinzo Abe's government, keen to cut imports of costly fossil fuels, is pushing for reactor restarts.
All 48 reactors were eventually taken offline amid public outrage at the handling of the crisis.
Nine utilities have since applied to restart 19 reactors.
Sendai, chosen to lead the revival, could secure approval for its two units as early as September. With the governor of Kagoshima Prefecture and the mayor of the plant's host city of Satsumasendai strongly in favor, a green light is all but certain.
But skepticism in Ichikikushikino and other coastal towns, which do not share in the jobs and government subsidies linked to the nuclear industry, could delay the restart.
Ichikikushikino's city council promised last week to submit the residents' petition to the governor.
And there may be a reassessment or revision of plans drawn up by local officials to have residents pile into cars and buses and drive along highways to pre-assigned evacuation centers.
Any town within a 30-km radius of a nuclear plant must create an evacuation plan, while schools, hospitals and elderly care facilities are asked to set their own emergency plans.
Kiyoko Kojima, 75, who works at a day care center 13 km from the plant, said the facility, with 60 children in its charge, had no evacuation plan.
"I haven't heard anything about an emergency plan. I'm not even sure whether we wait for the parents to come pick up the children or we evacuate right away," she said.
In the event of an accident at Sendai, more than 210,000 residents would have to be moved.
In Ibusuki, a town 80 km south of Ichikikushikino, one reception center is a run-down, two-story building for 90 evacuees, providing only 2 sq. meters per person.
Researchers say local governments lack expertise and resources to make preparations.
"There aren't enough people at the state and local level doing simulations of evacuation plans," said Hirotada Hirose of Tokyo Woman's Christian University.
"This plan is based on a set of highly unrealistic assumptions and I have to question whether this is a true simulation."
National regulators are unlikely to step into the breach.
The newly established Nuclear Regulation Authority is bogged down in regulatory hearings since laying down stringent guidelines for plant restarts a year ago. Officials reject any notion of a more active role in emergency planning.
Even supporters of restarts have doubts about the plans.
Toyoji Fukuzono, 61, a retired fisherman, questioned a route requiring 1,600 residents to travel down a narrow road that routinely floods at high tide.
"We just want you to consider actual road conditions," he told a town hall meeting. "You know there's regular flooding and landslides."