Population nearly halved in ex-evacuation zone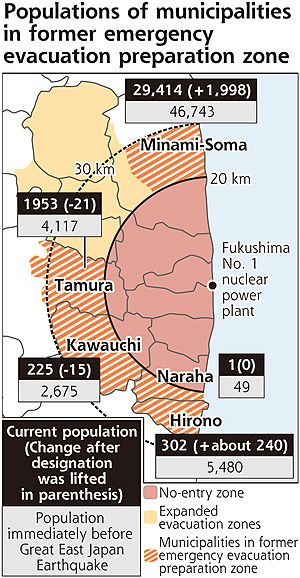 The population of municipalities in the former emergency evacuation preparation zone in Fukushima Prefecture has nearly halved since the outbreak of the crisis at the Fukushima No. 1 nuclear power plant, according to a Yomiuri Shimbun survey.
In light of the situation, municipal governments in these areas are concerned their communities will collapse unless measures to stop population outflow are taken.
Designated by the central government at the start of the crisis, the former emergency evacuation preparation zone either partially or entirely encompasses areas in Minami-Soma, Tamura, Kawauchi, Naraha and Hirono. The five municipalities are within a 20- to 30-kilometer radius of the nuclear plant.
According to the survey, 59,000 people lived in the five municipalities before the earthquake, but about 30,000 have since evacuated the area. In Hirono, Naraha and Kawauchi, where municipal governments asked residents to evacuate based on their own judgment, the population dramatically declined.
While municipal governments in Minami-Soma and Tamura did not take such measures, families with children and others have evacuated the area in rapid succession. The central government lifted the emergency evacuation preparation zone designation on Sept. 30, allowing residents to return home without any restrictions.
Although seven months have passed since then, only about 2,200 residents in total have returned home. As a result, the total population in these municipalities has decreased to 54 percent of what it was before the earthquake.
There are various reasons why evacuees have not returned home. Beside concerns about high radiation levels, some said their places of work had been closed, while others said their children had settled in at new schools in the cities they had evacuated to.
Meanwhile, the central government has been urgently working to reclassify parts of municipalities within a 20-kilometer radius of the crippled plant in the no-entry zone, as well as areas in the expanded evacuation zones where accumulated radiation doses may exceed 20 millisieverts per year.
However, the central government faces difficulties doing so because municipal governments are opposed to reclassification, as many residents do not want their homes to be divided, among other reasons. While such zones encompass areas in 11 municipalities, the new categories have only been applied to Minami-Soma, Tamura and Kawauchi.