May 5, 2012
Energy conservation in spotlight as Japan faces summer without nuclear power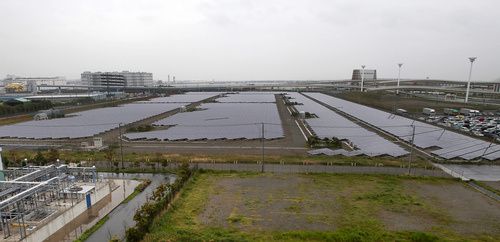 In this Wednesday, May 2, 2012 photo, solar panels cover the 11-hectare compound of the Ukishima Solar Power Station in Kawasaki near Tokyo. The new plant, jointly run by Tokyo Electric Power Co. (TEPCO) and Kawasaki City, generates enough electricity to fulfill the consumption of 2,100 households. (AP Photo/Itsuo Inouye)
http://mainichi.jp/english/english/newsselect/news/20120505p2a00m0na016000c.html
As the nation's last operating nuclear reactor is set to be suspended for regular inspections late on May 5, Japan is facing the prospect of its first summer without nuclear power in over 40 years.
Hokkaido Electric Power Co. (HEPCO) is poised to suspend the operation of the No. 3 reactor at the utility's Tomari Nuclear Power Plant in the Hokkaido village of Tomari at around 11 p.m. on May 5. The reactor is the last one in operation among the 50 reactors remaining after the Fukushima nuclear crisis.
A number of reactors have been suspended for regular inspections following the onset of the nuclear disaster at the tsunami-hit Fukushima No. 1 Nuclear Power Plant in March last year, but there are no immediate prospects of their reactivation.
According to HEPCO, workers will insert control rods into the Tomari plant's No. 3 reactor at around 5 p.m. to decrease its power output before the reactor is halted at around 11 p.m.
Amid fears of a power crunch, the lifestyles of residents in Japan have been undergoing major changes since the nuclear crisis triggered by the March 11, 2011, Great East Japan Earthquake and tsunami, with people becoming more conscious of the power they use.
A newly built condominium in Yokohama's Asahi Ward boasts some 600 solar panels on its rooftop, supplying electricity to some 100 homes in the complex. Each household in the five-story condominium is allocated six solar panels, and surplus power is sold to utilities.
"It's fun to see how much energy my solar panels can generate," said Takeshi Nomura, a 42-year-old company employee who moved into the condo in late April, as he pointed to a solar energy output monitoring device on the wall of his living room on May 2. Although it was rainy, the monitoring device indicated that Nomura's portion of solar panels had supplied 0.1 kilowatts of power that day.
According to Takara Leben Co., the seller of units in the condominium, most of the units, which cover 70 to 80 square meters, are priced at less than 40 million yen. In a standard household, residents can save some 60 percent in utility costs by using solar energy and all-electricity settings. Households whose occupants tend to be absent in the daytime can even expect to earn about 2,500 yen a month through the sale of more than half of their solar energy production -- an amount that could offset the domestic electricity price hike of 10 percent or so that Tokyo Electric Power Co. (TEPCO) is considering introducing as early as July.
Nomura recalls being inconvenienced during the rolling blackouts last year, as he was living in a district prone to power outages at the time.
"Since then, energy-conservation has become the norm for me," he said, indicating that the experience led him to purchase the solar-powered apartment.
An official with the planning and research department at Real Estate Economic Institute Co. comments: "Since the March 11, 2011 quake disaster, the question of whether condominiums are eco-friendly, such as being equipped with solar panels, has emerged as one of the key considerations for aspiring home buyers in the Tokyo metropolitan area."
Light-emitting diode (LED) lighting, which has garnered attention as an easy-to-use energy-saving innovation, still boasts popularity, and household LED ceiling lights have been one of the biggest hits over the past year.
Fluorescent tubes were the mainstream for household lights in March last year, according to one research source, with LED lighting accounting for only 2.9 percent of all sales figures. However, with a number of manufacturers making forays into the LED market following the quake disaster, the sales figures of LED lighting topped 50 percent for the first time in March this year.
Rising energy-conservation awareness is also evident in other ways. While the maximum power demand in TEPCO's service area fell an average of 19.7 percent during the government-ordered electricity usage restriction period between July and September last year compared to the same period the previous year, the maximum power demand continued to stay low even after the lifting of the restriction, falling an average of 9.7 percent in October and November compared to a year earlier. The maximum power demand was also 11.4 percent lower between April 1 and 23 this year compared to the figure recorded in 2010.
Many people are also rethinking their lifestyles. One 44-year-old company employee in Kyoto says he affixed cushioned packaging materials to his windows to improve heat insulation and made it through winter with his heater set at around 20 degrees Celsius -- even though he used to set it at around 24-25 degrees during previous winters. He now also sets his living room lighting 40 percent darker.
"I don't feel like I'm having to give up a lot. Perhaps thanks to the absence of extreme changes in temperature, I didn't catch a cold this winter," he said. This past winter he saved up to 20 percent on his monthly electricity bills compared with the previous winter -- equivalent to 20,000 to 30,000 yen when converted to a yearly figure.
A 32-year-old nursing-care worker living with his wife and child in Tokyo's Suginami Ward made it a rule to shut down the circuit breaker every time his family went out during the rolling blackouts last year. He and his family don't watch TV any more than necessary, and set the three-tier brightness of their household lighting at "Level 2." As a result, their monthly electricity charges have dropped from the 4,000-5,000 yen range to somewhere around 2,000 yen.
"The nuclear disaster made me realize that we'd been wasting electricity. Saving energy pushed down my utility costs, and it was worth the effort," he said, with a satisfied look.