December 8, 2012
Few parties focus on negative side of renewable energy expansion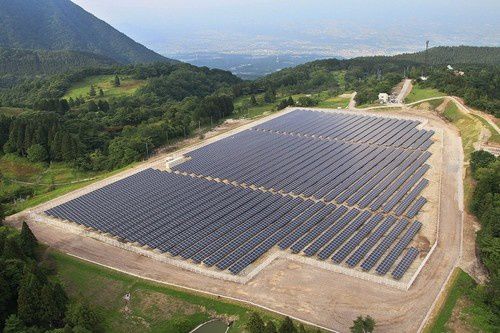 A megasolar plant operated by Softbank in the village of Shinto, Gunma Prefecture, is pictured from a Mainichi helicopter on June 30. Under the new FIT system, the sale of energy was introduced in Japan on July 1. (Mainichi)
http://mainichi.jp/english/english/newsselect/news/20121208p2a00m0na010000c.html
Many of the political parties fielding candidates in the upcoming Dec. 16 House of Representatives election are calling for a breakaway from nuclear power generation and the expansion of renewable energy as an alternative power source in their campaign promises.
"We will push through an energy revolution," one of the party slogans says, while another says, "We will develop local industries through renewable energy and expand employment." However, only few parties underscore the negative side of renewable energy -- the possibility of electricity bills being further raised if such energy is expanded.
The feed-in tariff (FIT) system to promote renewable energy was introduced in Japan in July, under which power companies purchase the total amount of electricity generated by renewable energy and shift the cost on to electricity bills. As the government set high tariffs, an array of business operators are making forays into the renewable energy market, such as megasolar plants.
However, the cost of solar power generation is slightly over 30 yen per kilowatt hour, which is about threefold of that of state-of-the-art thermal power generation, according to calculations by the Ministry of Economy, Trade and Industry. Amid a series of electricity bill raises by major power companies slated for next year and beyond due to deteriorating profits as a result of a suspension of nuclear power plants, industry insiders have voiced strong concerns over further cost increases.
The Japan Iron and Steel Federation estimates that FIT-driven energy bill increases could boost costs in the iron and steel industry by 123 billion yen a year. "It could deliver a third blow to the industry, on top of the yen's appreciation and deflation," said a federation representative.
Industry circles are specifically concerned with a precedent in Germany, where the FIT system was introduced in 2000 and the subsequent soaring of household electricity bills became a big issue as the renewable energy market expanded. The additional cost from renewable energy resulted in an almost three-fold increase in monthly electricity bills from 442 yen in 2009 to 1,205 yen in 2011, inviting a backlash from the general public. In response, the German government lowered the tariffs by 20-29 percent in March this year.
Q-Cells, the world's biggest solar-cell maker based in Germany, collapsed because megasolar plant operators introduced Chinese-made cheaper cells in an attempt to curb power generation costs. The bankruptcy triggered criticism among opposition parties, which insisted that renewable energy adversely affected industry and low-income earners. The FIT system has emerged as one of the points of contention in the upcoming general election in Germany slated for next fall.
The Japanese government has defined renewable energy as one of the country's growth strategies and is planning to inject 120 trillion yen in measures to support solar panel makers and other entities. However, Chinese products already account for some 70 percent of the global solar panel market. Because solar panels "can be produced without much know-how if the necessary equipment is available," according to an official with the Agency for Natural Resources and Energy, Chinese makers dominate the market due to cheap labor.
"It would be desirable if the expansion of renewable energy leads to the creation of new industries. However, as Japanese solar cell manufacturers have been engaged in price competition with their counterparts in emerging countries, the government is concerned that promotion of renewable energy would only push up electricity bills and wouldn't lead to economic revitalization," said Hideaki Matsui, senior researcher at the Center for the Strategy of Emergence at the Japan Research Institute.
At stake now is whether the government can establish a framework under which support for renewable energy can lead to Japan's economic growth while avoiding placing an excessive burden on electricity consumers. None of the energy policies advocated by political parties for the upcoming general election even present the blueprint for that grand design.