September 30, 2012
Survey: 1 percent of food samples exceeded radioactive limit
http://ajw.asahi.com/article/0311disaster/fukushima/AJ201209300031
Even with newer stricter standards for radioactive materials in food, only about 1 percent of food samples tested by the central and local governments in the past six months have failed to clear the screening, an Asahi Shimbun survey showed on Sept. 30.
"The spread of (radioactive) contamination is receding," a health ministry official concluded.
The new permissible standards for radioactive contamination stipulate that the upper limit of radioactive cesium in food is 100 becquerels per kilogram. The corresponding figure for baby food and milk is 50 becquerels, while drinking water is 10 becquerels.
In the inspections that had been conducted until March, the permissible standards had been 500 becquerels per kilogram. The corresponding figure for drinking water, milk and dairy products had been 200 becquerels.
Since the new standards were introduced in April this year, the central and local governments have inspected about 114,000 food samples by the end of September. Of these, 1,394 samples, or about 1 percent, contained more radioactive materials than allowed under those standards.
Many of the samples were those of fishery products and mushrooms, the survey said.
As a result, shipment of a total of 108 food items was banned in 10 prefectures by the central government. Those food items were mainly fishery items and mushrooms.
None of the baby food and milk samples have contained more radioactive materials than the new standards.
The samples that were subject to inspection were mainly food items that had been found to contain more than 50 becquerels of radioactive materials in the past. If new standards were used in March 2012, about 2 percent of the samples would have exceeded the limit of 100 becquerels.
Immediately after the accident at the Fukushima No. 1 nuclear power plant in March 2011, radioactive materials that were scattered from the plant and fell from the sky spread the contamination. At present, radioactive cesium that has accumulated in the ground or sea is a major source of contamination.
Food sampling whose radioactive contamination have exceeded the permissible standards are centering on certain items, such as fishery products or mushrooms, which easily retain radioactive materials because of difficulties in managing their feed or soil.
All of those fishery products are demersal fish, such as flatfish and Pacific cod, and river fish, including char. Demersal fish are bottom feeders that readily take cesium from their feed. River fish characteristically have difficultly in discharging cesium from their bodies.
Food items whose samples contained more radioactive materials than the new permissible standards are not distributed to retailers because producers are imposing voluntary restraints on their shipments or the central government is instructing them to suspend their shipment.
One of the conditions for lifting the directive is that all of the samples of the item contain less radioactive materials than the new standards in an inspection done during the previous month.
As fish and wild animals move around, however, it is more difficult to evaluate their food safety than vegetables.
"We cannot set clear standards for them," said a health ministry official in charge of the issue.
During the period from April to August, there were 14 cases in which food that had been already distributed were found to contain more radioactive materials than the standards.
Food inspections by the central and local governments are mainly conducted on pre-shipment products. The number of products that are inspected after being distributed is much smaller.
As for products that have been already distributed, the central government has inspected only about 100 samples per month. None of the distributed products inspected by the central government have found to be containing more radioactive materials than the new standards.
Meanwhile, anxieties that spread among consumers immediately after the Fukushima nuclear accident are gradually subsiding.
Kiyokazu Ujiie, assistant professor of food consumption analysis at the University of Tsukuba's graduate school, asked married women in the Tokyo metropolitan area in June if they knew the new permissible standards. Twenty-two percent said that they knew the contents of the new standards and 63 percent replied that they had heard of them.
Asked whether they would buy spinach that was produced in Fukushima Prefecture but contained less radioactive materials than the standards, 41 percent replied they would not buy it at any price. The figure was a decrease of 6 points from February.
On the other hand, those who said that they will buy the spinach if the price is 10 to 50 yen (13 to 64 cents) cheaper than that produced in other prefectures stood at 32 percent. It marked an increase of eight points from February.
"Thanks to the introduction of the stricter standards, consumers' evaluations of agricultural products produced in Fukushima Prefecture have apparently improved," Ujiie said.
October 2, 2012
Less radioactive cesium found in food items as decontamination work progresses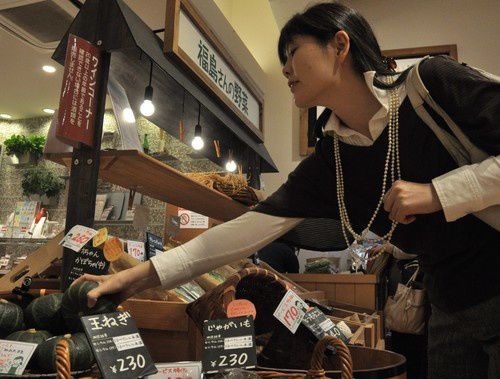 A customer shops at a store called "Catalog House no Mise," which sells vegetables produced in Fukushima Prefecture, in Minato Ward, Tokyo. The results of cesium tests on those vegetables are displayed above the price tags. (Mainichi)
Lower levels of radioactive cesium exceeding government-set standards were found in food items tested by local municipalities over the past six months thanks apparently to progress in decontamination work on farm land, the Ministry of Agriculture, Forestry and Fisheries said.
The announcement came as Oct. 1 marked half a year since the government tightened standards for radioactive materials contained in food items in April, from 500 becquerels per kilogram to 100 becquerels. Among 113,509 food items that were inspected by municipalities by the end of September, 1,394 items, or 1.2 percent, were found to contain cesium exceeding the new criteria.
Of those 1,394 cesium-tainted food items, 735 items were marine products, while most of the remaining items included mushrooms, wild vegetables, and wild animal and bird meat. Vegetables and fruit accounted for 1 percent or less among the contaminated items.
Along with the reduced food contamination, harmful rumors that discourage customers from buying products from nuclear disaster-affected areas have relatively subsided compared to last year.
In 2011, levels of cesium detected in peaches produced in Fukushima Prefecture did not exceed the then provisional standard of 500 becquerels per kilogram, but their prices plunged to half those in normal years. JA Date Mirai, a Japan Agricultural Cooperatives' branch in the prefectural city of Date, decontaminated orchards through such measures as debarking 37,000 orchard trees. The prices for peaches produced this year bounced back to 80 to 90 percent of normal levels. A 31-year-old JA Date Mirai official in charge of peaches, however, said, "The shipment volume has not recovered yet, and we are still uncertain about our future."
A store in front of JR Shinbashi Station in Tokyo, called "Catalog House no Mise," has been selling agricultural products from Fukushima to support the region's recovery. The store has set its own standards of 40 becquerels per kilogram and displays the results of radioactive tests on products. Some customers asked about the test method last year, but the store now enjoys an increase in the number of regular customers. A 38-year-old female company employee from Tokyo, who visited the store for the first time, said, "I can buy goods at ease because they display the test results. Recently, I have come to feel that I don't have to worry more than necessary."
Aeon Co. also conducts voluntary inspections on products and sells only items whose levels of radioactive cesium are below the measurable limits of 10 to 15 becquerels. The company says that sales of agricultural products from the Tohoku region have been recovering but that consumers are still feeling insecure about seafood.
Most of the fish species whose levels of cesium tend to exceed the standards are coastal bottom fish, including slime flounder and flatfish. Cesium is hardly detected in sand eel and other types of fish that inhabit near the sea surface off Fukushima Prefecture. Levels of cesium detected in such invertebrate animals as squid and octopus are below the measurable limits.
According to surveys by the Fisheries Agency and other organizations, cesium has hardly been detected in seawater lately. Toyoji Kaneko, professor at the University of Tokyo, says that fish take in cesium from their mouths and excrete it from their gills, while invertebrate animals have skins permeable to seawater and their bodies' cesium concentration declines as the seawater is purified. Bottom fish, meanwhile, eat bottom feeders and are therefore apt to take in cesium that has accumulated on the seabed.
A survey by the Fukushima Prefectural Government's fisheries experiment station found that the cesium concentration in marine products caught off the prefecture, excluding areas within 20 kilometers from the crippled nuclear plant, has been on the decline since July last year. "The cesium concentration in bottom fish will also decrease gradually," the manager of the station said.