7,000 flock to rally for decommissioning of all reactors in Fukushima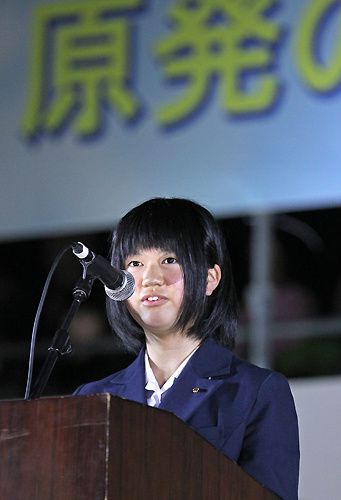 Sakura Takano, a high school student serving as a messenger of peace, addresses an anti-nuclear power rally in the city of Fukushima on March 23. (Mainichi)
http://mainichi.jp/english/english/newsselect/news/20130325p2a00m0na009000c.html
FUKUSHIMA -- Some 7,000 people joined an anti-nuclear power rally here over the weekend, calling for the abolishment of all nuclear reactors in this disaster-hit prefecture, organizers have announced.
The rally, titled "Genpatsu no nai Fukushima o! Kenmin daishukai" (For a Fukushima without nuclear plants! Mass meeting for prefectural residents), was held in a gymnasium at this city's Azuma Sports Park on March 23.
Rally participants from in and outside the prefecture offered a silent prayer for the victims of the March 2011 Great East Japan Earthquake and tsunami as well as those who died during the Fukushima nuclear plant disaster evacuation. The rally adopted a declaration calling on the central government and plant operator Tokyo Electric Power Co. to decommission all reactors in the prefecture.
Sakura Takano, 18, a high school senior from Minamisoma, Fukushima Prefecture, was among seven prefectural residents who addressed the meeting about their predicament.
"We who have gone through the pain of the nuclear disaster have a mission to tell many people about it, so that the memory of the disaster does not fade," Takano told the crowd. She also referred to how local residents had been forced to get used to the sight of the now-ubiquitous radiation monitoring posts, and to being torn from their friends and family.