Foreign groups help create fund to reconstruct disaster-hit Minamisoma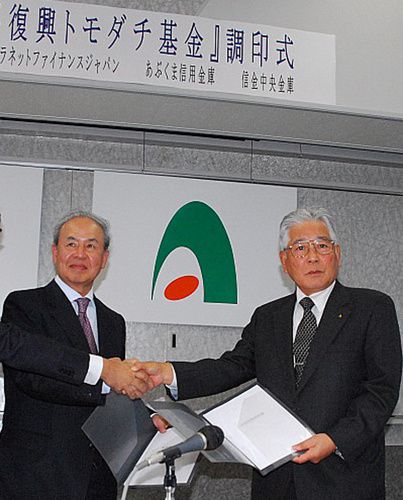 Tsuneo Hanzawa, right, president of Abukuma Shinkin Bank in Minamisoma, Fukushima Prefecture, and Kazuo Tanaka, executive director of PlaNet Finance Japan, shake hands after signing an agreement on setting up the Minamisoma Tomodachi Fund for Economic Recovery in Minamisoma on Oct. 29. (Mainichi)
http://mainichi.jp/english/english/newsselect/news/20121109p2a00m0na017000c.html
Funds from foreign groups are helping firms in Minamisoma promote reconstruction of the city in Fukushima Prefecture following the March 11, 2011 Great East Japan Earthquake and tsunami and subsequent nuclear disaster.
Abukuma Shinkin Bank in Minamisoma, Fukushima Prefecture, and the nonprofit PlaNet Finance Japan have jointly established a special fund for small and midsized firms to promote reconstruction of the city.
The Minamisoma Tomodachi Fund for Economic Recovery will back up small and midsized enterprises and help rehabilitate the city along the way, says Tsuneo Hanzawa, president of Abukuma Shinkin Bank.
The fund utilizes 200,000 dollars (about 16 million yen) from the nonprofit relief support group Mercy Corps in the U.S. state of Oregon and the Japan-America Society of Oregon to support small and midsized firms with no more than 20 employees.
Specifically, the new fund will provide about three firms with a maximum of 1.5 million yen or about 50 percent of initial costs and provide those companies with around four rehired people 100,000 yen each per month for one year. It will also help selected firms with a total of 5 million yen in interest payments for the first two years of loans of up to 10 million yen.
PlaNet Finance Japan in Tokyo's Minato Ward is the Japanese arm of the Paris-based PlaNet Finance Group which handles financial services for small and midsized enterprises.
PlaNet Finance Japan initiated a 5 million dollar Sanriku tomodachi fund with Shinkin Central Bank and Kesennuma Shinkin for Kesennuma, Minamisanriku in Miyagi Prefecture, and Rikuzentakata and Ofunato in Iwate Prefecture in November last year and provided relief funds in about 200 cases.
Kazuo Tanaka, executive director of PlaNet Finance Japan, says his group wants to back up Minamisoma's efforts to achieve economic recovery and help people back to work.