August 25, 2012
Full-scale radiation testing begins on Fukushima rice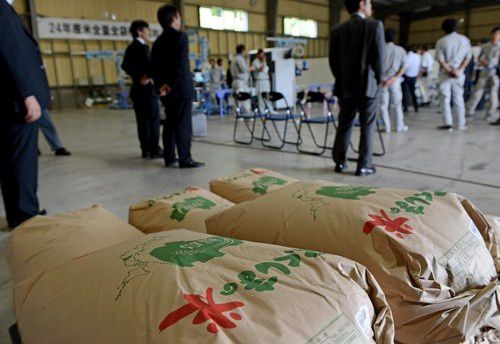 Bags of rice await testing in the Fukushima Prefecture city of Nihonmatsu on Aug. 25. (Mainichi)
http://mainichi.jp/english/english/newsselect/news/20120825p2a00m0na011000c.html
FUKUSHIMA -- Radiation testing due to be performed on every bag of rice produced in Fukushima Prefecture this year started Aug. 25 in the Fukushima Prefecture city of Nihonmatsu.
Tests for radioactive materials that have contaminated many areas of the prefecture in the wake of the disaster at the Fukushima No. 1 nuclear plant are expected to be conducted on some 360,000 metric tons of rice from areas where the government has not restricted rice planting. Farmers will be banned from shipping rice whose radioactivity measures over 100 becquerels per kilogram.
Last year sample testing was conducted to screen out contaminated rice. However, after the prefecture announced that the rice was safe, levels of contamination exceeding the interim limit of 500 becquerels per kilogram were detected. As such, the prefecture decided this year to test all rice, using 190 testing devices that screen rice on conveyor belts.
On Aug. 25, 420 kilograms of early harvest Gohyakugawa rice, packed into 14 bags, underwent testing in Nihonmatsu. Takayuki Anzai, who had his rice tested, said he was worried whether consumers would buy the rice even if the level of radiation was below the permissible level.
"I'm also only half-happy about the harvest, and my emotions are mixed," he said.
Shipments of rice from the prefecture will peak in early October, when the main rice crop, Koshihikari, is harvested.
Fukushima Gov. Yuhei Sato, who attended a ceremony to mark the start of testing stated: "By testing all bags, we can deliver rice to consumers with peace of mind."