August 30, 2012
Opinion remains divided on energy plan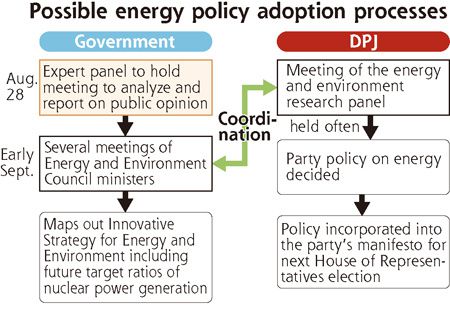 Opinions are divided among the government and the Democratic Party of Japan over the nation's nuclear policy, and even Cabinet ministers have different sentiment to each other.
Motohisa Furukawa, state minister for national policy, said, "A major direction [of public opinion] is that the majority want denuclearization."
The comments show Furukawa's willingness to move toward forming a consensus to abolish Japan's nuclear dependency in 2030.
Sources said Economy, Trade and Industry Minister Yukio Edano, Furukawa and Goshi Hosono, state minister for nuclear power policy and administration, met in Tokyo on Monday to discuss a basic policy on the percentage of Japan's power supply in 2030 that will come from nuclear sources.
Unofficial meetings dubbed the "three plus two," which included the three ministers, Yoshito Sengoku, acting DPJ Policy Research Committee chairman and Tsuyoshi Saito, deputy chief cabinet secretary, were held intermittently in August.
Edano was scheduled to leave Japan early Wednesday for an international conference, making the Monday meeting one of the best opportunities for the attendees to make a decision.
While Furukawa and Edano were willing to decide that the nation's nuclear dependency in 2030 be reduced to zero, Hosono was cautious and remained opposed. "It would be difficult to secure human resources and technology necessary to operate nuclear reactors" if the government decided to abolish nuclear power, Hosono said.
Sengoku reportedly refused to take part in the meeting because he wanted to avoid a hasty decision. Sengoku has been critical of abolishing nuclear power because of fears this would adversely impact the Japanese economy.
As Edano is scheduled to return to Japan on Friday night, the meeting's conclusion is likely to be made early September.
During August several policy panels were established.
For example, the government conducted a deliberative opinion poll to learn the public's choice from among three scenarios about the amount of nuclear power used in the country in 2030. This ranged from zero percent to 30 percent of the nation's total power generation. The government hastily created a panel of experts at Furukawa's initiative to analyze public opinion on the matter.
Last Thursday, the DPJ created an energy and environment research committee chaired by Seiji Maehara, the chairman of the party's Policy Research Committee.
As the dissolution of the House of Representatives and a subsequent general election becomes more likely, various research forums and places where opinions can be presented were created "to justify policy decisions," said a senior government official.
The DPJ is divided with some members pushing for denuclearization and others wanting to create a policy that prioritizes securing stable energy resources.