November 27, 2012
Voters' choice: Fukushima town crowd disappointed by Hashimoto's weak anti-nuclear stance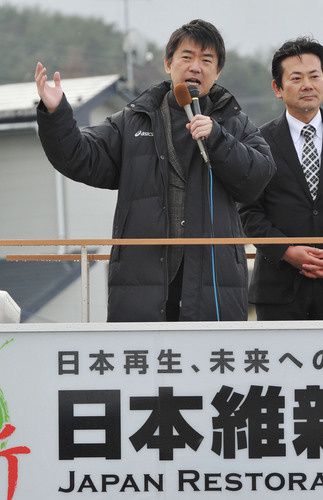 Toru Hashimoto gives an outdoor talk in Aizuwakamatsu, Fukushima Prefecture, on Nov. 27. (Mainichi)
http://mainichi.jp/english/english/newsselect/news/20121127p2a00m0na009000c.html
FUKUSHIMA -- Japan Restoration Party (JRP) acting leader Toru Hashimoto gave an election campaign speech on the streets of Aizuwakamatsu, Fukushima Prefecture, on Nov. 27 for the first time since the outbreak of the Fukushima nuclear disaster, eliciting hope from voters in his ability to get things done, but disappointment over his party's apparent retreat from its strong anti-nuclear stance following its merger with the short-lived Sunrise Party.
Among the onlookers who turned up to listen to Hashimoto as light snow fell in the area was a 72-year-old farmer from the Fukushima Prefecture town of Aizubange.
"I want an end to nuclear power plants, so I came to listen to his nuclear power plant policies," the 72-year-old said in front of the JRP's campaign office at the foot of Iimori Hill in Aizuwakamatsu. However, referring to the hill's history as the scene where members of the Byakkotai teenage samurai unit committed suicide during the Boshin War of 1868-69 that played a part in the restoration of Imperial rule, he added, "I've got mixed feelings about 'Restoration' (in the party's name) in a place watched over by the Byakkotai."
The JRP office announced that about 800 people turned up to hear Hashimoto, but to reporters, the number appeared to be between about 200 and 300.
Hashimoto attracted the attention of residents at the start of his 17-minute speech by stating, "We don't see Aizu as an opponent" -- an apparent reference to the region's history of victimization over the course of the Meiji Restoration. He went on to address criticism in the media that his party had stopped trumpeting a "zero nuclear" policy since its merger with former Tokyo Gov. Shintaro Ishihara's Sunrise Party.
"Our way of thinking hasn't changed one bit," he said, adding, "None of the other parties have provided concrete plans."
However, some residents remained cautious.
"He's a good speaker, but what he says doesn't differ that much from other politicians," said a 72-year-old woman from Aizuwakamatsu who turned up. Commenting on the party's anti-nuclear policies, she added, "It's probably all for the election."
A total of 2,850 people who evacuated from the Fukushima Prefecture town of Okuma following the outbreak of the disaster at the Fukushima No. 1 Nuclear Power Plant now live in Aizuwakamatsu. One 60-year-old evacuee who listened to Hashimoto's speech commented, "It's a shame he didn't get down to the details (of the nuclear issue) in his overview. I wanted him to provide a numerical target for eliminating nuclear power plants. He didn't touch on how to deal with Fukushima -- which could be due to the gap between his enthusiasm for major cities and for regional areas. He was stressing his ability to get things done. I'll have to wait a bit to see how that turns out, but I hope he does well."
Another woman in her 60s who lives in a temporary housing complex about 1 kilometer away from where Hashimoto spoke commented, "I'm worried about cuts to welfare and so on. The flip side of his ability to get things done is the fear of not knowing what he'll do. I want to calmly assess the situation," she said.
On Nov. 26, Hashimoto spoke for over an hour at a hotel in the city, but it was only during the last six minutes of his talk that he touched on the JRP's nuclear policies. Though the talk was dubbed a "town meeting," there was no chance for participants to ask questions.