November 10, 2012
Bright hope: Fukushima temple draped in lights as prayer for disaster recovery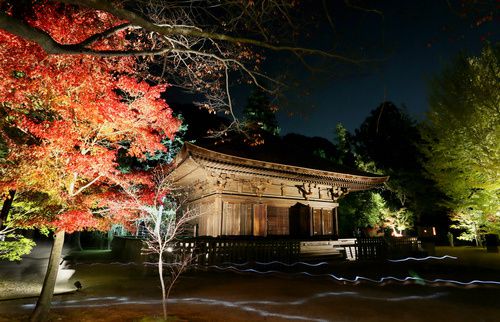 Lights at the Shiramizu Amida hall are seen being tested in this 30-second exposure shot taken in Iwaki, Fukushima Prefecture, on Nov. 9. (Mainichi)
http://mainichi.jp/english/english/newsselect/news/20121110p2a00m0na004000c.html
IWAKI, Fukushima -- Lights have been set up at the Shiramizu Amida hall, a designated national treasure and part of a temple complex here, as local businesses pray for recovery from the Great East Japan Earthquake and ongoing nuclear disaster.
At a test lighting on Nov. 9, LEDs lit up over 20 trees in the temple garden, including a large ginkgo said to be over 400 years old, and a Buddhist statue in the hall.
The hall is part of the Ganjoji temple complex, and the lights can be seen every evening through Nov. 20.