July 30, 2014
Ice put into utility tunnels at Fukushima plant
http://www3.nhk.or.jp/nhkworld/english/news/20140730_29.html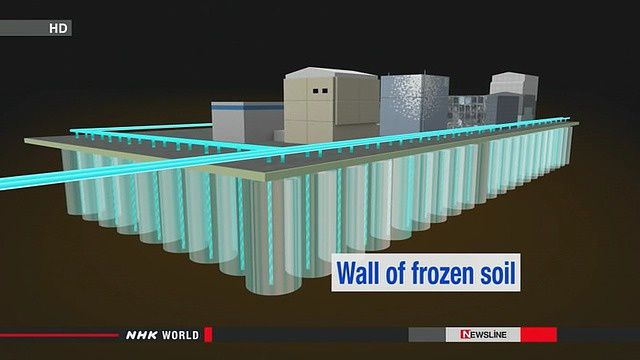 Jul. 30, 2014 - Updated 10:09 UTC+2
The operator of the damaged Fukushima Daiichi nuclear power plant has begun putting ice into underground utility tunnels to help freeze radiation-contaminated wastewater.

The Tokyo Electric Power Company began work in April to create a wall of ice between the basement of the No. 2 reactor building and its utility tunnel.

TEPCO initially planned to freeze radioactive wastewater that's been flowing into underground utility tunnels at the plant. It hoped the measure would prevent the wastewater from mixing with groundwater and flowing out to sea.

But 3 months into the project, the water hasn't frozen as planned.

Workers began putting ice into the water on an experimental basis this month. They say they found that 2 tons of ice reduced the water temperature by more than 4 degrees by the next day.

On Wednesday, workers increased the daily input of ice to 15 tons.

Utility tunnels between the No. 2 and No. 3 reactors and the sea are estimated to hold a total of 11,000 tons of radiation-contaminated wastewater.