May 10, 2014
Ex-mayor lashes back at criticism over depiction of nosebleeds in manga about Fukushima plant
http://mainichi.jp/english/english/newsselect/news/20140510p2a00m0na014000c.html
The former mayor of a Fukushima Prefecture town near the crippled Fukushima No. 1 Nuclear Power Plant says he has no intention of retracting comments from a manga series in which he appears as himself, claiming he has been experiencing nosebleeds.
Katsutaka Idogawa, 67, former mayor of the Fukushima Prefecture town of Futaba, is featured in the popular comic series "Oishinbo." The main character is a newspaper reporter who goes to cover the crippled Fukushima plant and later experiences nosebleeds when he comes back to Tokyo. Idogawa says his nose bleeds regularly and that there are many others in Fukushima who have developed similar symptoms.
After receiving inquiries about the depiction in the story, publisher Shogakukan released a statement saying it decided to publish the issue respecting the author's expression, which was based on thorough research.
A depiction from an Oishinbo story where the main character bleeds from the nose after visiting the Fukushima No. 1 Nuclear Power Plant. (Mainichi)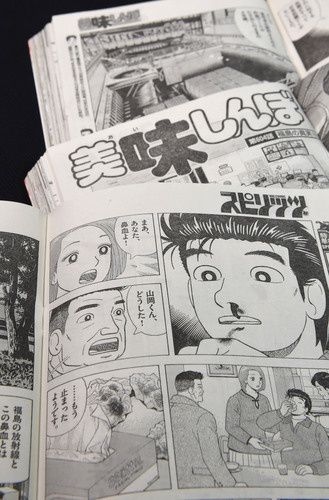 Idogawa told a news conference on May 9 in Tokyo that he has heard many stories about local residents experiencing nosebleeds. He says his nose bleeds every day, especially in the mornings.
"There is no way I would retract my comments in the manga," Idogawa said. Responding to Environment Minister Nobuteru Ishihara's criticism of the depiction, Idogawa commented, "The minister has no business with my physical condition."
Manga author Tetsu Kariya wrote in his blog, "I am responsible for everything (in the story)." He asked readers not to complain to the publisher.
The editorial department of Big Comic Spirits, the weekly magazine that carries the manga series, posted a comment on its website that the story was not intended to judge the cause of nosebleeds or spread harmful rumors about areas near the nuclear plant.
May 10, 2014(Mainichi Japan)