Trial rice planting begins 20 kms from Fukushima nuke plant
http://mainichi.jp/graph/2012/05/14/20120514p2a00m0na004000c/001.html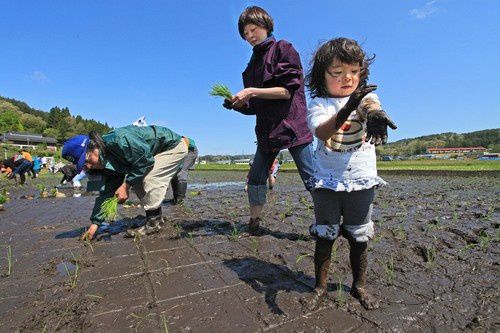 KAWAUCHI, Fukushima -- Trial planting of rice has begun in this village some 20 kilometers away from the crippled Fukushima No. 1 Nuclear Power Plant, with the aim of examining whether rice produced in this area would contain radioactive cesium.
Some 50 people, including volunteers from the Tokyo metropolitan area, participated in the traditional-style rice planting in the village of Kawauchi on May 13, a move initiated by the village's commerce and industry association and other entities.
While the village's entire area was subject to the central government's rice planting restrictions last year on the heels of the nuclear disaster at the Fukushima No. 1 nuclear plant, the Kawauchi Municipal Government has decided to voluntarily refrain from planting rice in the village this year as well.
Based on the results of the test growing, the village seeks to resume full-scale rice planting next year and beyond. A total of 30 rice paddies will each have a 1,000-square-meter experimental patch, on which rice is test-planted at different depths with different volumes of minerals sprayed to absorb radioactive substances.
Once harvested, the experimental rice will not be distributed but will be tested for any radioactive cesium.