November 11, 2012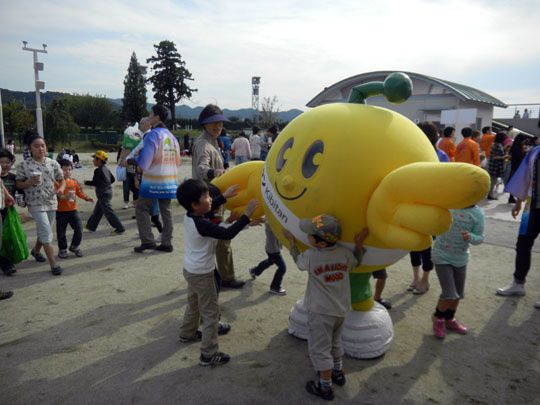 Cute fallout reminder: Kids play with the Kibitan bird mascot Oct. 14 in Fukushima. AFP-JIJI
Mascot bird warns kids of radiation
http://www.japantimes.co.jp/text/nn20121111b3.html
AFP-Jiji
A grinning cartoon mascot modelled after a bird has been enlisted to teach children in Fukushima Prefecture how to remain safe from radioactive fallout spewed during the nuclear disaster.
Kibitan — a plump, yellow cartoon character with stubby wings and boots — is warning youngsters to stay away from puddles and ditches, where large quantities of radioactive materials tend to accumulate.
In a leaflet issued by Fukushima's nuclear crisis task force, Kibitan, inspired by the narcissus flycatcher, asks children to promise to wash their hands and gargle with water as soon as they return home. The smiling Kibitan also explains what radiation is and cautions that it can make children sick if it gets inside their body.
The character was designed in 1995 to mark an athletics meet in the prefecture and has served as a local mascot ever since.
Tens of thousands of people were evacuated from their homes around the Fukushima No. 1 plant in the weeks after it suffered three core meltdowns following last year's monster earthquake and tsunami.
But antinuclear energy campaigners say the government has done little to protect those living only a little farther afield. Last month, environmental group Greenpeace charged that radiation levels up to 13 times the legal limit had been detected in heavily populated areas just a few dozen kilometers from the plant.
"It is especially disturbing to see that there are many hot spots around playground equipment, exposing children, who are most vulnerable to radiation risks," a Greenpeace scientist said in October.
On Thursday, the government admitted that some of its radiation measurements were inaccurate, saying devices at 675 locations in and around Fukushima were underreporting radioactivity levels by around 10 percent.
The nuclear catastrophe discharged radioactive materials into the environment over a wide area and rendered swaths of agricultural land unusable.
Though the twin natural disasters killed more than 19,000 people in March last year, no one has been officially recorded as having died as a direct result of the Fukushima meltdowns. But experts caution that decommissioning the No. 1 plant and making areas around it habitable again will still take decades.