Nuclear zone holdouts, old dog 'Miracle' live on
By KOJI HARADA
Kyodo
http://www.japantimes.co.jp/text/nn20121128f2.html
TOMIOKA, Fukushima Pref. — An old gaunt dog was spotted at a barn in a town in Fukushima Prefecture last August, apparently feeding off the carcasses of cattle abandoned after the nuclear disaster started in March 2011 at the Fukushima No. 1 power plant.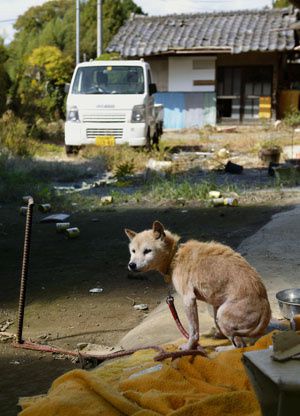 Dogged persistence: Kiseki (Miracle), rescued from starvation, sits leashed to a stake Oct. 17 in the town of Tomioka, Fukushima Prefecture. KYODO
Naoto Matsumura, who had seen the dog, thought it a miracle that the animal had managed to survive in Tomioka, which is in the 20-km exclusion zone set up around the crippled power plant.
Residents had been ordered by the government to evacuate due to high levels of radiation.
Matsumura, 53, is one of the few who have remained and has taken it on himself to feed and care for abandoned cattle and other animals as the head of a local nonprofit organization.
A soiled collar around the dog left Matsumura pitying the animal, which was probably waiting for its owner to return. Lying motionless on the ground, the dog could not swallow water.
Matsumura feared the dog could die the next day. "A miracle must happen," he recalled thinking as he held the dog in his arms and took it to a veterinarian outside the exclusion zone.
The canine survived, but not before the vet, who mistakenly thought Matsumura was its owner, accused him of animal cruelty. Now named Kiseki (Miracle), the dog is gradually recovering but still cannot howl.
The second winter into the nuclear plant disaster is approaching in Tomioka, with unpicked persimmons littering the streets and the rivers full of salmon.
The most striking scene is fields of yellow Canada goldenrods that have taken over areas where rice and other crops once grew.
Matsumura and his friend, Kazuo Endo, 55, are busy preparing for winter, stocking up on feed for around 100 cattle. Endless laughter fills their conversations.
At times, though, Matsumura appears pensive. He has been so ever since Tomioka Mayor Katsuya Endo declared in late September that evacuated residents won't be able to come back for the next five years.
"These animals, when the residents return, will be the symbol of the town of Tomioka," Matsumura said.