May 12, 2012
Fukushima residents struggle with quake rubble, lack of volunteers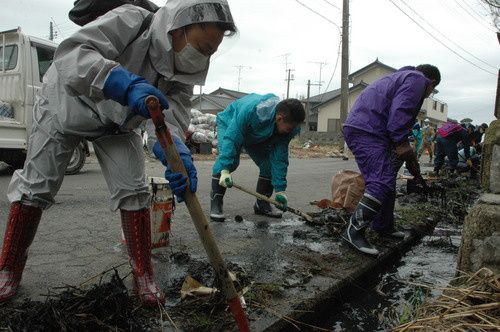 Volunteers scrape mud and rubble out of a gutter in the Odaka district of Minamisoma in Fukushima Prefecture. (Mainichi)
http://mainichi.jp/english/english/newsselect/news/20120512p2a00m0na010000c.html
MINAMISOMA, Fukushima -- Evacuees who are now allowed to return home in the Fukushima Prefecture city of Minamisoma are finding themselves with a shortage of volunteers to help them clear rubble. Many other cities in the Tohoku region that were hard hit by the Great East Japan Earthquake and tsunami have had over a year to deal with such problems.
With the exception of some parts of the city, the no-go designation on Minamisoma, a city greatly affected by the quake, tsunami, and nuclear disaster, was lifted over a year after the disasters on April 16, allowing residents to enter the city freely.
Kazui Nagayama, 79, commutes everyday from his temporary housing facility to his home in the city's Odaka district, which was engulfed by tsunami in March 2011. "My house is far from being cleaned up," he says. "It's exhausting, both emotionally and physically. I want people to understand that not all disaster areas are the same; those that have been affected by the nuclear crisis are different."
From Tokyo's Katsushika Ward, Misae Komatsu, 42, visited Minamisoma with her father and husband during the Golden Week holiday to volunteer for rubble removal. They helped carry furniture caked in mud out of homes and scraped mud out of gutters. "I was shocked to see that over a year after the quake and tsunami, everything was still the way it was," Komatsu said of the untouched rubble.
"I think there are people out there who don't know that there's still a need for volunteers who can help with rubble removal," suggested Toshio Watanabe, a 52-year-old volunteer from Chiba.
Currently, the Nakamachi Volunteer Center commissioned by Minamisoma's Council of Social Welfare is the only organization accepting volunteers to remove rubble in the area. The center says there were about 700 volunteers during the April 28 to May 6 "Golden Week" holiday, with one day seeing over 100 volunteers. Since May 7, however, the numbers have dropped to about a dozen per day.
Meanwhile, there is still a great demand among residents for assistance from volunteers. As of May 8, residents of Minamisoma's Odaka district have lodged with the center 14 requests for help that would require the manpower of some 420 people.
In an effort to alleviate the labor shortage, Minamisoma's Council of Social Welfare decided that volunteers would be accepted through the city's life recovery volunteer center beginning May 18.
According to the Fukushima Disaster Volunteer Center, 149,310 volunteers participated in activities in the prefecture from March 12, 2011 -- the day after the quake -- through the month of April 2012. May 2011 saw the greatest number of volunteers, at 34,385 people. The figures plummeted after September, however, with only 1,161 volunteers taking part in activities this past April.
A Fukushima Disaster Volunteer Center official points to a shift in the type of volunteer activities across the prefecture, saying: "Immediately after the disasters, there was a high demand for rubble removal, but now a lot of volunteer work is focused on supporting the everyday lives of people who are now living in temporary housing facilities."