June 18, 2012
http://mainichi.jp/english/english/perspectives/news/20120618p2a00m0na012000c.html
Editorial: Don't reverse policy toward less reliance on nuclear plants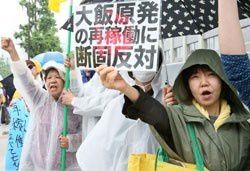 Protesters standing in the rain chant slogans against the restart of the Oi Nuclear Power Plant in Fukui Prefecture, in front of the Prime Minister's Office in Tokyo on June 16. (Mainichi)
Despite its decision to allow Kansai Electric Power Co. (KEPCO) to reactivate two idled reactors at the Oi Nuclear Power Plant in Fukui Prefecture, the government should not reverse its policy of cutting down on Japan's reliance on nuclear power.
In a meeting with Cabinet ministers concerned, Prime Minister Yoshihiko Noda officially decided to allow Osaka-based KEPCO to resume operations at the No. 3 and 4 reactors at the plant that had been suspended for regular inspections.
Fukui Gov. Issei Nishikawa was quoted as telling Noda prior to the meeting of those Cabinet members, "We agree to the reactivation of the reactors in order to contribute to the stability of people's livelihoods and industries in Kansai, a major electric power consuming region."
It will be the first time since the outbreak of the disaster at the tsunami-hit Fukushima No. 1 Nuclear Power Plant in March 2011 for nuclear reactors suspended for regular inspections to be reactivated, putting an end to the situation in which no nuclear reactor in Japan is in operation.
However, members of the general public are apparently worried about the government's decision and harbor distrust.
Learning lessons from the Fukushima nuclear crisis, the government has declared that Japan will decrease its dependence on atomic power. However, even though 15 months have passed since the crisis was triggered by the March 11, 2011 Great East Japan Earthquake and tsunami, the government has failed to show any clear vision for its nuclear energy policy, such as its overall energy policy and how to position nuclear power in it. It has delayed a decision on specific measures to respond to serious nuclear accidents.
Under these circumstances, it is totally unacceptable for the government to reactivate nuclear reactors without in-depth debate on the issue.
Touching on an anticipated surge in the demand for electricity in summer, Prime Minister Noda told a news conference on June 8, "We'll take measures to minimize the impact on people's daily lives. Japanese society can't do without atomic power stations."
He also denied that operations at the Oi nuclear power plant will be limited to summer. "We can't protect people's livelihoods if nuclear plants are allowed to be in operation only in summer."
The government's Energy and Environment Council will map out Japan's new energy strategy sometime around this August. Before approving the strategy, the government is supposed to clearly show options, such as a review of the nuclear energy policy and global warming countermeasures, for national debate.
The prime minister's remarks, which could be interpreted as suggestions that the government will promote nuclear power ahead of alternative options, should be criticized as making light of such national debate. The new energy strategy must not reverse the government's policy of relying less on nuclear power. The energy industry and other businesses can strategically respond to the new policy only if the government clearly shows its stance to lower Japan's dependence on nuclear plants.
Prime Minister Noda said the safety of nuclear plants is effectively guaranteed, referring to the reactivation of the idled reactors. We call this "a relapse to the safety myth" of nuclear power stations.
The government worked out safety standards for the resumption of operations at idled nuclear reactors in April. The standards, based on emergency countermeasures following the outbreak of the Fukushima nuclear crisis and the primary evaluation of safety assessments called "stress tests," call for countermeasures only against earthquakes and tsunami as large as the March 11, 2011 disasters. Moreover, the standards give nuclear plant operators a grace period for building quake-resistant buildings on the premises of such power stations that will serve as a base for a response to accidents.
International safety standards for nuclear power plants call for "defense in depth," including measures to prevent damage from accidents beyond the scope of assumptions and to protect the safety of residents near such power stations. However, Japan's current nuclear plant safety measures do not meet international standards. The executive and legislative branches of accident investigation panels have not completed their investigations into the Fukushima crisis, which should be reflected in safety measures. Therefore, the prime minister has admitted that the current safety standards are only provisional.
The government is set to merge the Nuclear Safety Commission and the Nuclear and Industrial Safety Agency (NISA) into a "nuclear power regulatory commission" by September, and the new panel will work out new safety standards. The standards are expected to come into force sometime around summer 2013. The new standards should apply to reactivation of nuclear reactors other than Oi, and as the governments of Shiga and Kyoto prefectures that neighbor Fukui demand, operations at Oi's No. 3 and 4 reactors should be limited to summer when the consumption of electric power surges.
NISA has instructed electric power companies to re-examine faults situated around their nuclear plants following the finding that a fault in Fukushima Prefecture, which had been believed to be stable, actually moved as a result of aftershocks following the Great East Japan Earthquake.
There is a "fracture zone," a kind of fault, just below the Oi plant. Some experts have warned that the fault is posing a danger to the plant even though NISA denies it. The new regulatory panel will be required to review the established evaluations of faults around nuclear power stations across the country.
Noda held the news conference because Fukui Gov. Nishikawa urged the prime minister to appeal to the public that nuclear power plants are important for Japan and that the Oi plant needs to be reactivated.
Fukui Prefecture is home to 13 commercial nuclear reactors -- 11 operated by KEPCO including Oi's No. 3 and 4 plants, and two run by Japan Atomic Power Co. -- as well as the Monju prototype fast-breeder reactor. If Japan steadily decreases its dependence on nuclear power, it will have a serious impact on the regional economy. Gov. Nishikawa took advantage of an anticipated power shortage in summer to draw such bold remarks from the prime minister.
However, the Fukushima nuclear crisis has reminded us that once an accident occurs at a nuclear power station, it will cause damage across prefectural borders and adversely affect all of Japan. It is essential for both electric power supplying and consuming regions to cooperate in seeking specific ways to slash Japan's reliance on nuclear power and vitalize the regional economy.
Even if operations at Oi's No. 3 and 4 reactors are resumed, electric power will still be in short supply mainly in KEPCO's service area. The government should not relax its energy-saving policy. The serious electric power shortage in the wake of the outbreak of the Fukushima nuclear crisis has reminded members of the public of the need to save electric power, and prompted businesses to take various measures to reduce their power consumption. Now is a good opportunity to speed up the transformation of Japan into an energy-saving society.
According to an opinion poll that the Mainichi Shimbun conducted on June 2 and 3, 71 percent of respondents said the government does not need to rush to reactivate Oi's No. 3 and 4 reactors. When asked if the pollees can tolerate the situation if the reactors cannot be reactivated by summer and their electricity consumption at their homes and workplaces is restricted, 77 percent answered in the affirmative, far above 19 percent who said they cannot.
So-called "negawatt power" transactions, in which power suppliers pay fees depending on the amounts of power saved, and the expansion of power interchanges between utilities should be promoted regardless of whether Japan should cut back on its reliance on atomic power. These measures will help overcome a possible shortage of electricity and reduce a surplus in electric power generation facilities. Consumers are also urged to review their lifestyles in an effort to reduce their electric power consumption in summer. We can strive a step closer to a society without nuclear power stations by experiencing a power shortage in summer and overcoming it.