April 8, 2013
Mayor of Namie asks for cooperation in disaster recovery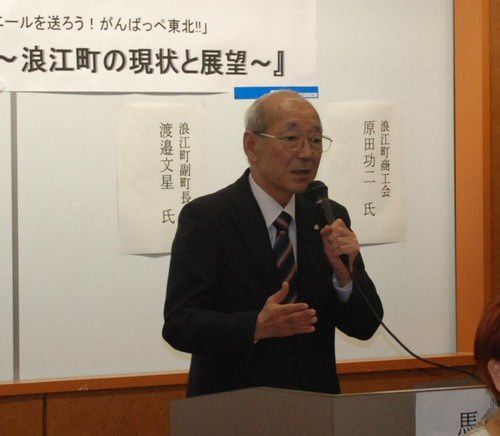 Namie Mayor Tamotsu Baba speaks at a symposium on the town's recovery from the nuclear disaster in Tama, western Tokyo, on April 6. (Mainichi)
http://mainichi.jp/english/english/newsselect/news/20130408p2a00m0na005000c.html
The mayor of the Fukushima Prefecture town of Namie, hit hard by the March 2011 outbreak of the nuclear crisis, has criticized the government and the nuclear plant operator for failing to minimize the damage, and has asked for help in its disaster recovery efforts.
"The government and Tokyo Electric Power Co. (TEPCO) failed to provide us with any information or to save the lives of those who could've been saved, which led to an expansion of the damage. It's unforgiveable," Mayor Tamotsu Baba told a symposium on the current situation and prospects for Namie in Tama, western Tokyo, on April 6.
"Two years have passed since the outbreak of the disaster and we finally appear to be approaching a neutral situation after being negative for so long. However, much of the rubble still remains in the town and we're about to launch full-scale recovery efforts. I'd like to ask you for help," he said.
About 100 people, including Tama Mayor Hiroyuki Abe and local residents, attended the symposium organized by the owners of shops around Seiseki-Sakuragaoka Station on the Keio Line.
"We'd like to support the town's recovery efforts to prevent the memory of the disaster from fading," said one of the organizers.