February 16, 2013
TEPCO releases video of vital Fukushima plant equipment, denies quake damage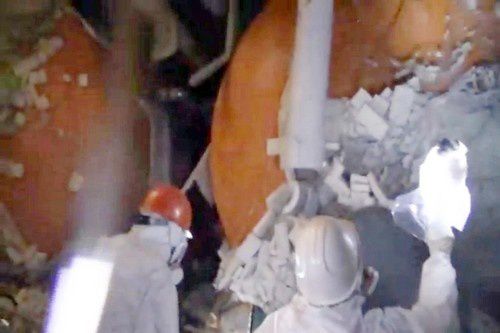 TEPCO employees examine the area around an emergency isolation condenser, back, in this still image from video taken Nov. 30, 2012 inside the Fukushima No. 1 nuclear plant's No. 1 reactor building. (Image courtesy of TEPCO)
http://mainichi.jp/english/english/newsselect/news/20130216p2a00m0na014000c.html
Tokyo Electric Power Co. (TEPCO) on Feb. 15 released footage from the inside of the Fukushima No. 1 nuclear plant that it insists proves a vital piece of reactor cooling equipment was not damaged by the March 2011 Great East Japan Earthquake.
Suspicion that the emergency isolation condenser in the No. 1 reactor had been damaged by the quake emerged when a plant worker told a Diet disaster investigative committee that water had been observed leaking around the condenser before the ensuing tsunami arrived. TEPCO has maintained that the core meltdowns at the plant were triggered by tsunami damage to backup power and cooling systems and not by the quake itself.
The 28-minute video was shot on Nov. 30 last year and shows four TEPCO employees in protective suits inspecting conditions on the fourth floor, including the ceiling where the leak is said to have occurred.
TEPCO has said the water did not leak from the emergency condenser, but had flowed into an exhaust pipe from the spent fuel pool on the top floor of the reactor building. The exhaust pipe opening is covered by a metal plate, but this had apparently come off.
In February last year, TEPCO refused to allow the Diet committee to do on-site inspections, claiming the inside of the reactor building was too dark to see anything. It has since been proven that there was enough light in the building to perform the inspection.
The footage released Feb. 15 was tracked down only after a former investigative committee member suggested TEPCO had the video in its possession.
"The department that took the video thought the footage had already been released," said Masayuki Ono, acting head of TEPCO's nuclear power and facilities section. "There was miscommunication in the company."
TEPCO has posted the footage on its website at http://photo.tepco.co.jp/en/index-e.html