March 29, 2014
Japan Fukushima nuclear worker dies in mudslide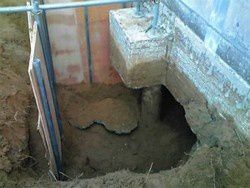 This photo released by Tokyo Electric Power Co. shows a pit where a worker was buried under a mudslide while working near a storage area at the Fukushima No. 1 nuclear plant in Okuma, Fukushima Prefecture, on March 28, 2014. (AP Photo/Tokyo Electric Power Co.)
http://mainichi.jp/english/english/newsselect/news/20140329p2g00m0dm025000c.html
TOKYO (AP) -- A worker died Friday at the Japanese nuclear plant devastated by the 2011 tsunami after getting buried in a mudslide, in the first death from an accident during efforts to control and decommission the facility.
The man, who had been working near a storage area at the Fukushima Dai-ichi plant, was dug out and rushed to a hospital, but he was unconscious and his heart had stopped beating.
Three hours after the mudslide swallowed him, the man, who was in his 50s, was pronounced dead at the hospital, according to Tokyo Electric Power Co., the utility that operates the plant.
"Some danger is always involved," company spokesman Masayuki Ono told reporters. "We are deeply sorry."
Three reactors went into meltdown and exploded after the March 11, 2011, tsunami damaged the plant's cooling system.
Thousands of workers, wearing masks and suits to guard against radiation, are working on the cleanup and decommissioning, which is expected to take decades.
Workers have collapsed from heat and ailments, but this was the first fatal accident involving a plant employee since two workers went missing after the tsunami hit the plant. Those workers were later found dead.
The worker who died Friday had been carrying out what is similar to regular construction work in a hole in the ground when mud and pieces of concrete collapsed on him, TEPCO said.
The specific cause of death was still under investigation, and the man's name was not disclosed, it said.
The worker was employed at one of the layers of subcontractor companies that supply labor to TEPCO. Workers' exposure to radiation is monitored, and they must quit when they reach the annual limit.
TEPCO said the worker was the seventh to die over the last three years. It said three died from heart attacks and one from leukemia, but that none of the deaths has been related to radiation exposure.
March 29, 2014(Mainichi Japan)