Thursday, April 26, 2012

Evacuated Fukushima town sets up whole-body dosimeter at temporary housing complex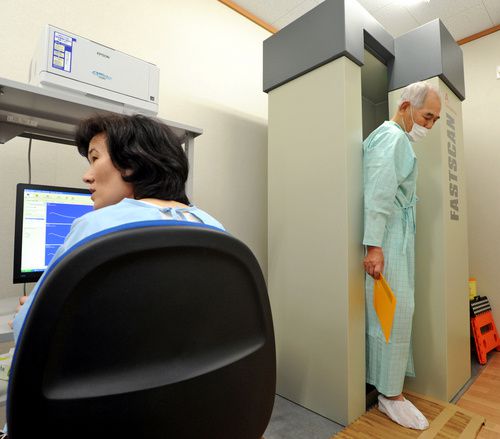 A man undergoes an internal radiation measurement check-up using the newly installed whole-body dosimeter at a temporary housing complex in Nihonmatsu, Fukushima Prefecture, on April 26. (Mainichi)
http://www.mainichi.jp/english/english/newsselect/news/20120426p2a00m0na011000c.html
NIHONMATSU, Fukushima -- The municipal government of Namie, a town which was evacuated due to the nuclear disaster at the Fukushima No. 1 Nuclear Power Plant, has set up a whole-body dosimeter at a temporary housing complex here in a bid to promote its own efforts to monitor residents' health.
Namie, which falls within the no-go and planned evacuation zones around the damaged nuclear power plant, is the first among all totally evacuated municipalities following the nuclear disaster to push forward such a move and install a radiation counter at a temporary housing complex.
The whole-body dosimeter, which was installed at a Namie clinic currently located on the premises of a temporary housing complex in Nihonmatsu, Fukushima Prefecture, will be used to check levels of internal radiation exposure in approximately 50 people a day. Screenings will take no more than two minutes per person, and results will be announced on the spot.
The Namie Municipal Government hopes to complete initial screenings of all town residents by the end of fiscal 2012.
While some 17 percent of Namie residents, mostly those under the age of 40, have already undergone some internal radiation measuring tests, including such launched by the prefectural government, the Namie Municipal Government took the initiative in order to provide long-term health monitoring for town residents, officials say.
The move was also pushed forward partially as a result of the fact that town officials were not notified about estimated radiation diffusion locations immediately after the disaster at the power plant in March last year, which led to an evacuation of residents and the town hall to sites where it was later discovered to have been highly radioactive at the time.
Based on this experience, town official judged that it is necessary to provide their own radiation tests to protect residents' health, a decision which eventually led to the installment of the dosimeter.