November 13, 2012
Cesium-tainted material processing system starts test run in Fukushima village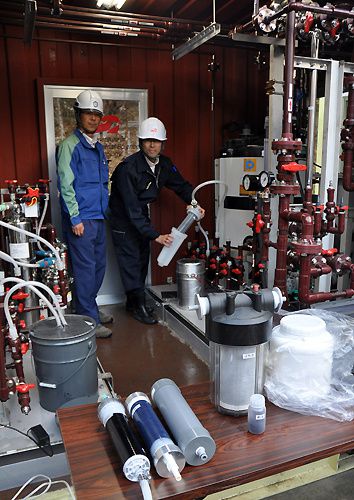 An apparatus in Kawauchi, Fukushima Prefecture, for processing plant matter contaminated with radioactive cesium. The final step in the cesium extraction process happens in the cylinders at front, where the radioactive element binds to blue dye particles. (Mainichi)
http://mainichi.jp/english/english/newsselect/news/20121113p2a00m0na009000c.html
KAWAUCHI, Fukushima -- Reporters got a first-hand look on Nov. 12 at an experimental system for processing radioactive cesium-tainted plant matter that has been set up near the stricken Fukushima No. 1 nuclear plant and is ready to help in cleanup efforts.
The test system, designed and built by a team led by the National Institute of Advanced Industrial Science and Technology (AIST), has been built in the Fukushima prefectural village of Kawauchi, much of which remains under an evacuation order and is now being decontaminated.
The processing begins with incinerating the contaminated plant matter and then combining the ash with water and acid. The radioactive cesium that dissolves out of the ash is extracted in liquid solution and transferred to cylinders containing an artificial Prussian blue dye. The dye granules bind to the cesium, effectively cleaning it out of the solution.
The apparatus can currently process about 120 kilograms of contaminated material per day, and testing is scheduled to continue through the end of fiscal 2013 under the stewardship of AIST and a subsidiary of Tokyo Electric Power Co., operator of the Fukushima No. 1 nuclear plant. The project is expected to cost 150 million yen.
"What's special about this system is that we've brought the incineration and decontamination processes together in one apparatus," commented AIST research group chief Toru Kawamoto. "We'd like to start releasing our first analysis results within the year."