September 13, 2012
Ex-MPD chief to head N-agency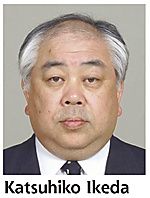 The government has decided to appoint Katsuhiko Ikeda, a former superintendent general of the Metropolitan Police Department, as the founding director of the nuclear regulatory agency that will serve as the new nuclear regulatory commission's secretariat, government sources said.
The government is set to approve the appointment at a Cabinet meeting as early as Friday to launch the commission and the agency next Wednesday, the sources said Tuesday.
Ikeda, 59, headed the National Police Agency's Security Division and the MPD's Security Bureau before serving as the superintendent general of the MPD from January 2010 to August 2011.
The new agency will be tasked with promptly dealing with any accident at a nuclear power plant. By nominating Ikeda as the agency's first director general, the government aims to boost its crisis management capability, observers said.
Shunichi Tanaka, a former acting chairman of the Japan Atomic Energy Commission of the Cabinet Office, who was recently tapped as the commission's head, will formally designate Ikeda for his new post, the sources said.
As for the agency's deputy director, the government will likely name Hideka Morimoto, who heads the Cabinet Secretariat's Office for the Preparation of Nuclear Safety Regulatory Organization Reform, the sources added.
In relation to the appointments, Goshi Hosono, the nuclear disaster management minister, met Tanaka as part of preparations to launch the commission.
He asked Tanaka to ensure that the new commission will listen to the opinions of various people, especially those who are critical about nuclear power.