July 20, 2014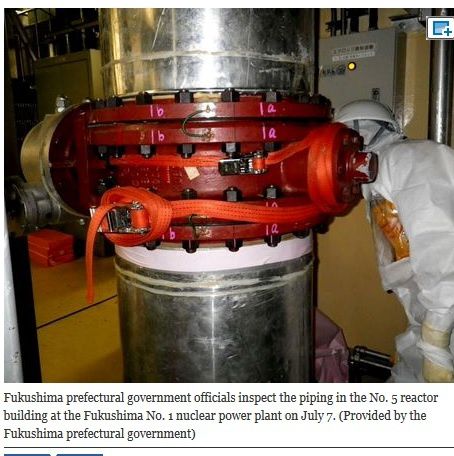 Water leaks continue to plague No. 5 reactor at Fukushima plant
http://ajw.asahi.com/article/0311disaster/fukushima/AJ201407200016
THE ASAHI SHIMBUN
A leak of radioactive water was found in the piping of water used to cool the spent fuel pool in the undamaged No. 5 reactor building of the Fukushima No. 1 nuclear power plant, its operator said on July 19, a sign of possible deterioration in the system.
Tokyo Electric Power Co. said water from the cooling pond leaked, citing comparable levels of the concentration of radioactive substances in the leak and the pool.
A TEPCO employee found a pool of water in each of two boxes--75 centimeters by 50 cm--that house a control valve in the cooling water piping system on the fifth floor of the No. 5 reactor building at 1:25 a.m. on July 19.
The water had collected to a depth of 9 cm in one box and 18 cm in the other.
The water contained 2-3 becquerels of cobalt 60 per cubic centimeter, according to the utility.
This particular piping section has been unused since July 6, when a similar leak was discovered at another section.
Experts say the continuing leaks indicate that valves are deteriorating, and that the utility's inspections are inadequate.
"We are aware that our approach proved to be lax as we were unable to detect the problem until the leak occurred," a TEPCO official said. "We are reviewing the way checks should be conducted."
At the also undamaged No. 6 reactor building, the pumping of cooling water was temporarily halted after a leak in a similar piping system was detected on July 11.
The latest leak at the No. 5 reactor building came after the Fukushima prefectural government urged TEPCO to conduct thorough checks of its equipment.
The No. 5-6 reactors had been shut down for maintenance when the earthquake and tsunami struck the nuclear complex on March 11, 2011, and resulted in meltdowns in three of the plant's four other reactors.
TEPCO plans to use the No. 5 and 6 reactors as training centers for the decommissioning work of the other reactors.