July 20, 2012
Remote-controlled decontamination tractor unveiled in Fukushima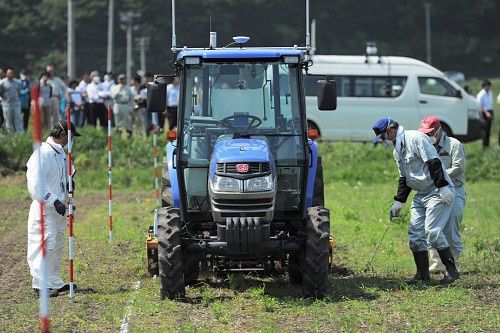 An unmanned tractor is remotely manipulated from a white station wagon, background, while residents look on from afar, in Iitate, Fukushima Prefecture, on July 19. (Mainichi)
http://mainichi.jp/english/english/newsselect/news/20120720p2a00m0na007000c.html
IITATE, Fukushima -- A remote-controlled tractor and other agricultural machinery designed to decontaminate farmland tainted with radioactive materials while protecting farmers from radiation were unveiled here on July 19.
Some 40 residents of the Fukushima Prefecture village of Iitate, which has been entirely evacuated following the nuclear disaster at the Fukushima No. 1 Nuclear Power Plant, witnessed a demonstration of the vehicles by developers including a farm machinery manufacturer.
One of the eight varieties of machinery unveiled was an unmanned, remote-controlled tractor capable of scraping the topsoil off rice paddies without exposing farmers to dust tainted with radioactive materials.
Another tractor has a lead-covered enclosure around the driver's seat to minimize the driver's exposure to radiation.