Holiday volunteers arrive in disaster zones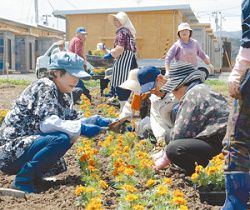 Volunteers and residents plant flowers on the grounds of temporary housing in Minami-Soma, Fukushima Prefecture, on Saturday.
FUKUSHIMA--Many volunteers visited devastated areas in the Tohoku region on Saturday, the first day of the Golden Week holiday period.
Members of Kokyo Seisaku Shiendan, a Tokyo-based nonprofit organization, visited a temporary housing area in Minami-Soma, Fukushima Prefecture, to offer about 5,000 seedlings, including marigolds and petunias, which they helped about 50 people, including residents, to plant.
A member of the organization said: "There are many farmers in this area. We want them to enjoy some relief from the stress of life as evacuees by having a chance to touch soil again."
At another temporary housing area in the city, members of the Muikamachi Commerce and Industry Association's youth group in Minami-Uonuma, Niigata Prefecture, served Chinese-style rice bowls to about 250 people, using Koshihikari rice produced in the city. Minami-Uonuma is a leading production area of the noted rice brand.
Group leader Yasushi Sakurai, 40, said: "We're repaying the favor we received from people around the country when the Chuetsu Earthquake hit our prefecture [in 2004].
"Although all we can do is prepare meals, we're happy to be of even a little help in the reconstruction work."
Other kinds of volunteer activities, including debris removal and projects to help restore the farming and fishing industries, were also carried out in Miyagi and Iwate prefectures