Tepco plans to transfer contaminated water to suppression pool of reactor 5 and 6 in emergency
As to the major leakage of highly contaminated water, Tepco is planning to transfer 23,600 tones of water to the tanks.
However, those tanks don't exist yet. Because they have to build the tanks, the water leakage won't be fixed until June.
(cf, Major leakage can't be fixed until early June [URL])
On 4/15/2013, Tepco announced they would transfer water to the suppression pools of reactor5 and 6 in case of emergency.
Suppression chamber is one of the major coolant systems of the reactor.
The reservoirs stock concentrated radioactive salt water. It would seriously damage the suppression chambers as well.
The suppression chambers must have had coolant water inside. It is not announced where the water was moved.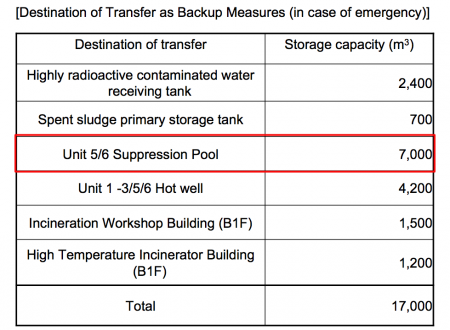 http://www.tepco.co.jp/en/nu/fukushima-np/handouts/2013/images/handouts_130415_07-e.pdf