December 14, 2012
Draft calls for stricter N-evacuation standards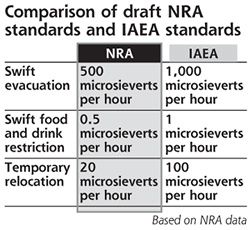 The Nuclear Regulation Authority on Thursday proposed a safety standard calling for the evacuation of residents within a few hours in areas with radiation levels higher than 500 microsieverts per hour in the event of a nuclear crisis.
The nuclear watchdog proposed the draft standard, which is half that of the International Atomic Energy Agency's evacuation standard of 1,000 microsieverts per hour, to a meeting of its expert panel.
The draft also calls for mandatory evacuation within a week of residents in areas with radiation levels above 20 microsieverts per hour, and restricts the consumption of food and drink produced in areas with air radiation levels 0.5 microsieverts per hour or higher.
Both envisaged standards are far stricter than the IAEA's limit of 100 microsieverts per hour and 1 microsieverts per hour, respectively.
A working group of the Cabinet Office's Nuclear Safety Commission said in October last year that evacuation and other safety guidelines for nuclear disaster response should be in line with IAEA standards.
However, the NRA decided to set stricter standards for the country from the viewpoint of residents' safety, following the crisis at the Fukushima No. 1 nuclear power plant that was triggered by the Great East Japan Earthquake.
The IAEA standards are considered reference figures only, and other nations also have adopted their own nuclear safety standards.
The draft will be studied by the panel, which comprises experts in radiology and other fields. As overly strict regulations may impose additional burdens on residents, the panel is tasked with striking a balance between convenience and safety.
The standards are expected to be decided on by the end of this year and will be reflected in the government's guidelines on response measures for nuclear emergencies.
December 13, 2012
Experts advise stricter nuclear evacuation rules
http://www3.nhk.or.jp/daily/english/20121214_04.html
A panel of experts from Japan's nuclear regulatory agency has proposed stricter evacuation rules for nuclear accidents.

Nuclear Regulation Authority experts advise the public to immediately take shelter when radiation levels reach 500 microsieverts per hour. That's half of the International Atomic Energy Agency guideline of 1,000 microsieverts per hour.

One day after the Fukushima Daiichi nuclear power plant accident last year, radiation of 500 microsieverts per hour was measured at a distance of 6 kilometers.

For radiation levels of 20 microsieverts per hour the panel advises residents to evacuate within a week. The current IAEA standard is 100 microsieverts per hour.

At radiation levels of 0.5 microsieverts per hour the panel advises residents not to consume locally-produced food and drink.

The experts say the government should prepare sufficient resources to allow radiation monitoring across the entire area affected by a nuclear accident.

The panel plans to finalize its recommendations by the end of December.