July 16, 2014
Anti-nuclear power groups criticize NRA
http://www3.nhk.or.jp/nhkworld/english/news/20140716_36.html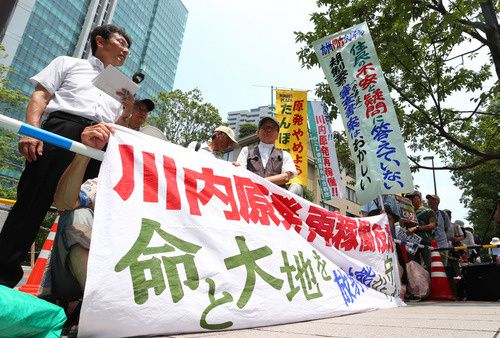 Groups opposing nuclear power are criticizing the Nuclear Regulation Authority, after it allowed the Sendai power plant to clear an initial safety hurdle toward restarting.

Eleven members from 5 anti-nuclear groups consisting of members of the public and municipality mayors held a news conference in Tokyo on Wednesday.

Eisuke Naramoto of the Citizens' Commission on Nuclear Energy says the regulator seems to have made a hasty decision even though the investigation into the nuclear accident at the Fukushima Daiichi nuclear power plant is still not complete.

Naramoto says the authority has not fully examined the Sendai plant operator's safety measures against earthquakes, tsunamis and volcanic eruptions from technical and scientific viewpoints.

Hiroko Uehara, the Secretary General of Mayors for a Nuclear Power Free Japan, says the municipalities hosting the plants are left with the responsibility to compile an evacuation plan for residents in the event of a nuclear accident. She says it's not possible to come up with sufficient plans to protect people's lives.

The five groups will call on the public to let the NRA know its opinions on the matter during the one-month public consultation period for the draft report, which begins on Thursday.

Some 160 members of civic groups against the Sendai plant's resumption held a rally to protest the regulator's approval in front of its office in Tokyo.

They said the plant should not be restarted, and the regulator is not needed if its aim is to restart plants.

The government is poised to go ahead with its plan to restart nuclear plants.

At a news conference, Chief Cabinet Secretary Yoshihide Suga says Japan loses about 40 billion dollars a year without nuclear power. He said a stable and inexpensive energy source is necessary for companies to operate comfortably in the country.

Suga added that Japan will eventually reduce its reliance on nuclear power, but the government will allow plants to resume for now as long as they pass the regulator's safety screenings.
Jul. 16, 2014 - Updated 11:07 UTC