June 5, 2013
Nuke regulators inspect damaged Fukushima reactor building to analyze disaster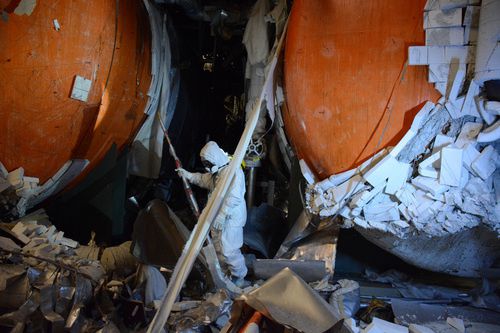 NRA officials inspect the fourth floor of the damaged No. 1 reactor building at the Fukushima No. 1 Nuclear Power Plant on May 31. (Photo courtesy of the NRA)
http://mainichi.jp/english/english/newsselect/news/20130605p2a00m0na018000c.html
The Nuclear Regulation Authority (NRA) has inspected the badly-damaged reactor building of the No. 1 reactor at the Fukushima No. 1 Nuclear Power Plant for the first time as part of its efforts to analyze the possible causes of the nuclear disaster.
The NRA released photographs of the interior of the fourth floor of the No. 1 reactor building on June 4. The Diet's task force investigating the accident at the Fukushima nuclear complex had abandoned its efforts to inspect the fourth floor of the reactor building after receiving a false explanation by the Tokyo Electric Power Co. (TEPCO), the operator of the Fukushima nuclear station, that "It is in complete darkness." Therefore, it is the first time that a nuclear regulatory body has inspected the damaged facility for the purpose of analyzing the accident.
The photographs released by the NRA include those of the emergency cooling system called the "isolation condenser (IC)" whose piping the Diet's investigative panel suggested could have been damaged by the March 11, 2011 Great East Japan Earthquake as well as those of the spots in the building from which workers said water was gushing out immediately after the earthquake.
The NRA is due to analyze the photographs and video footage. It then plans to present its views on possible causes of the nuclear disaster, including its opinion pointing to the possibility that the emergency cooling system was actually damaged by the earthquake, at a meeting of experts tasked with analyzing the causes of the disaster to be held as early as by the end of June.
June 5, 2013
Photos released of Fukushima reactor probe
http://www3.nhk.or.jp/nhkworld/english/news/20130605_15.html
Japan's nuclear regulators have released photographs of their first on-site investigation of the 2011 accident at the Fukushima Daiichi nuclear power plant.

The new investigation by the Nuclear Regulation Authority is focused on whether the March 11 earthquake damaged the plant's No. 1 reactor's cooling system before the arrival of a massive tsunami.

The authority released 4 photographs shot on the 4th floor of the No.1 reactor building. They were shot by 5 officials from the authority's secretariat last Friday.

The photos show the cooling system's red water tank and air-conditioning system in which parts were displaced and damaged.

Utility workers say they saw water leaking on the 4th floor near the tank immediately after the earthquake hit. The plant's operator, Tokyo Electric Power Company, says the water came from a fuel pool on the floor above and leaked into the air-conditioning system.

Nuclear regulators only stayed on the 4th floor of the reactor building for about 15 minutes due to high radiation levels.

The officials' highest reading for exposure was 4.8 millisieverts which is about 5 times Japan's maximum permissible dose per year for the general public.

The regulators say they shot hundreds of photographs and 40 minutes of video.