August 13, 2013
Residents of Fukushima no-entry zone make hometown visit to family graves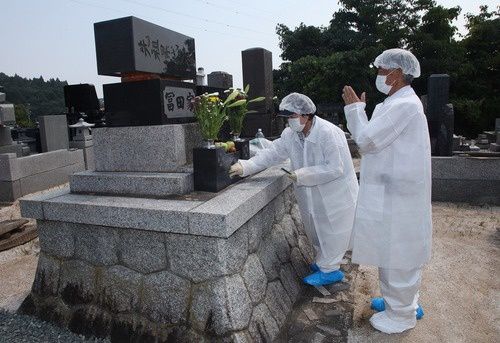 Eiichi Tomita, right, and his wife Mutsuko visit their family grave in Okuma, Fukushima Prefecture, on Aug. 12 during the "Bon" festival period. The couple is clad in radiation protective gear because the area is designated as a "difficult-to-return zone." (Mainichi)
http://mainichi.jp/english/english/newsselect/news/20130813p2a00m0na007000c.html
OKUMA, Fukushima -- Residents of this town that was reorganized into a new evacuation zone last year visited their family graves on Aug. 12 for the first time since the onset of the Fukushima No. 1 nuclear plant disaster in March 2011.
Areas home to 96 percent of residents from Okuma, Fukushima Prefecture, were rezoned into a "difficult-to-return area," where evacuees are not allowed to return for at least five years. Residents of Okuma, as well as three other towns in the area, were allowed to enter their hometowns to visit their family graves during the "Bon" festival period until Aug. 25, although they have to wear radiation protection suits.
Eiichi Tomita, 70, and his 71-year-old wife Mutsuko came back to Okuma from a temporary housing unit in the prefectural city of Aizuwakamatsu just for this day to lay flowers in front of their family grave, which was knocked over by the 2011 Great East Japan Earthquake.
"We're a bit relieved to see the grave cleaned thanks to decontamination work, but we can't come back here as radiation dosages are still high," the couple said.