February 1, 2013
Govt starts removing debris around Fukushima N-plant
Debris is being removed in Minami-Soma's Odaka Ward, Fukushima Prefecture, on Friday.
FUKUSHIMA--The Environment Ministry began removing debris from the Great East Japan Earthquake in Odaka Ward, Minami-Soma, in Fukushima Prefecture on Friday, in the government's first attempt to clear debris in a former no-entry zone.
Odaka Ward had been designated as a restricted access area in principle until April, when the restriction was lifted.
The tsunami triggered by the March 2011 earthquake created about 20,200 cubic meters of debris in the Tsukabara district along the coast.
(Feb. 2, 2013)
February 1, 2013
First debris removed from previous restricted area in Fukushima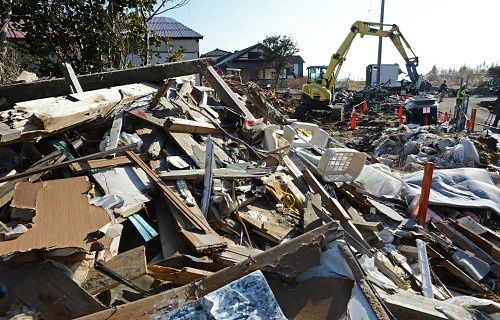 Disaster debris is seen on Feb. 1 before it is carried to the storage site in the Odaka district of Minamisoma, Fukushima Prefecture. (Mainichi)
http://mainichi.jp/english/english/newsselect/news/20130201p2a00m0na012000c.html
MINAMISOMA, Fukushima -- The Ministry of the Environment on Feb. 1 started the first removal of debris from a previous restricted area some 20 kilometers from the Fukushima Nuclear Power Plant.
On the coast of the Odaka district, a restricted area until April last year because of the accident at the Fukushima No. 1 Nuclear Power Plant, the ministry started removing debris caused by the Great East Japan earthquake and tsunami.
Some 183,000 tons of debris was estimated to lie in restricted areas in the city of Minamisoma. The ministry plans to build five temporary storage sites in these areas by September this year. After half of a storage site in the district of Tsukahara was completed, the ministry started removing debris from the district's neighboring areas.
Since the national government lifted some restricted areas in Minamisoma last April, those residents who could return to their homes have asked for the early removal of the debris. However, anxiety among residents about radiation persisted, preventing the building of temporary storage sites. The residents are concerned about how the temporary storage sites use plastic sheets for the prevention of soil pollution by radioactive materials. The ministry will also carry out real-time measurements on the amount of radiation.
On Feb. 1, the staff worked on the debris, separating wood, metal and concrete with bulldozers. These materials will be carried to the storage site and then separated into recyclables and non-recyclables. The combustibles will be burned at a temporary incinerator in the area.
Head of the Tsukahara administrative district, 62-year-old Yoshiki Konno, watched the debris removal and commented, "The recovery and reconstruction have just begun. Not every resident supports the construction of the storage sites, but we are working with the hope of making a faster recovery."