This article is actually about the Daini nuclear plant (Fukushima No. 2)
October 3, 2012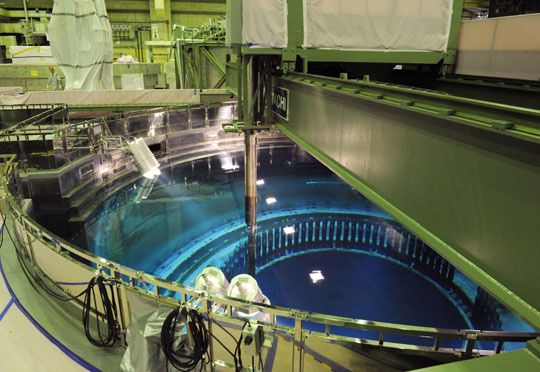 Delicate work: A nuclear fuel assembly is removed by an overhead crane from the No. 4 reactor at the Fukushima No. 2 power plant, 12 km north of the cripple No. 1 plant, on Tuesday. KYODO
Tepco removing fuel from reactor at Fukushima No. 2
http://www.japantimes.co.jp/text/nn20121003b7.html
Kyodo
Tokyo Electric Power Co. started Tuesday removing fuel from one of the reactors at the Fukushima No. 2 nuclear plant, allowing the media to observe part of the process.
It is the first time Tepco has removed fuel from one of the reactors since the facility was damaged in last year's earthquake and tsunami.
Tepco plans to move 764 fuel assemblies inside the No. 4 reactor to the spent fuel pool next to it. The utility will also check whether there is damage inside the reactor by using an underwater camera.
Fukushima No. 2, located about 12 km south of the crippled No. 1 plant, was damaged by the earthquake and tsunami of March 11, 2011, with three of the four reactors temporarily losing key cooling functions.
The damage was far less than at the No. 1 facility and workers achieved a cold shutdown of the reactors several days after the natural disasters.
Also in http://mainichi.jp/english/english/newsselect/news/20121003p2g00m0dm009000c.html