October 1, 2012
Construction resumes at Oma nuclear plant in conflict with gov't policy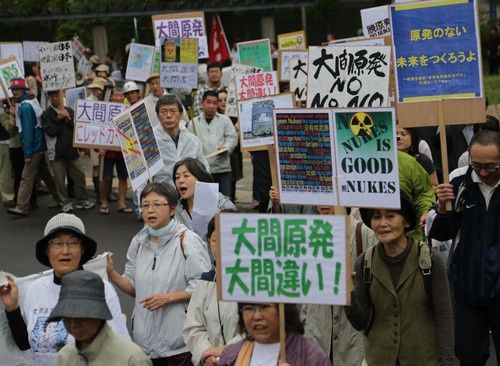 People protest the resumption of construction of the Oma Nuclear Power Plant, at a park in the Chiyogadai district of Hakodate, Hokkaido, on Sept. 30. (Mainichi)
http://mainichi.jp/english/english/newsselect/news/20121001p2a00m0na021000c.html
OMA, Aomori -- Electric Power Development Co. (J-Power) has resumed construction of its Oma Nuclear Power Plant following a suspension of work in the wake of the Fukushima nuclear disaster, the company announced on Oct. 1.
J-Power President Masayoshi Kitamura announced the move at a special Oma town council committee meeting. It is the first time for construction of a nuclear power plant to resume since the nuclear disaster triggered by the March 11, 2011 Great East Japan Earthquake and tsunami.
Completion of construction would enable the plant to run until the 2050s. This conflicts with the government's policy of abandoning nuclear plants by the end of the 2030s, and the construction is likely to stir controversy. Kitamura said the company would present a detailed construction schedule in the future.
"Government policy has provided clear stipulations on power plants under construction," he said.
Oma Mayor Mitsuharu Kanazawa said he was "very relieved" over the announcement.
Kitamura also visited the adjacent municipality of Kazamaura, where mayor Koichi Iida grilled him about evacuation in the event of a combined natural- and nuclear-plant disaster.
Hakodate, Hokkaido Prefecture, located on the coast opposite Oma and 23 kilometers away from Oma at its nearest point, is calling for an indefinite halt to the plans. Kazamaura, too, is hesitant over the resumption of construction, partly because evacuation routes have not been established.
Construction of the Oma Nuclear Power Plant began in May 2008 and 37.6 percent of the work is finished. Industrial minister Yukio Edano has said that "there will be no change" in the permission given for plants already under construction.
Nuclear plant construction to resume in Japan
http://www3.nhk.or.jp/daily/english/20121001_31.html
A Japanese power company says it will resume the construction of a nuclear power plant. This is the first such move in the country since last year's nuclear accident at Fukushima.

President Masayoshi Kitamura of the Electric Power Development Company, or J-Power, announced the decision on the Ohma plant in Aomori Prefecture on Monday.

Kitamura told a special session of the Ohma town assembly that his company decided to restart the project because of the government's recent clarification of its stance on uncompleted nuclear plants.

The assembly members welcomed the decision.

J-Power also dispatched officials to Hakodate City in Hokkaido to explain the decision. The city is located about 20 kilometers from the plant and is against the project.

Hakodate Mayor Toshiki Kudo told the officials that his city will never accept the decision, because the Ohma project received government approval based on criteria set before the Fukushima accident.

Kudo told reporters that the city will take legal action to stop the project.

J-Power began building the plant in 2008 but stopped after the Fukushima accident. The facility is nearly 40 percent complete.