May 1st, 2012
Sayama Tea festivals held on '88th day of spring' to highlight safety after nuke crisis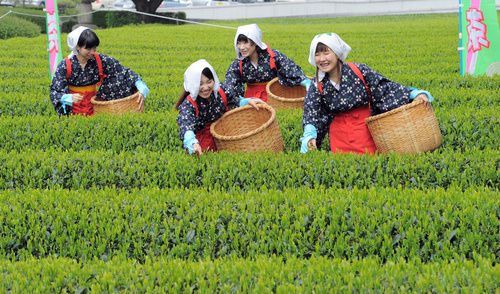 Five promotion women, wearing casual kimono with splashed patterns and a rosy sash, pick up fresh tea leaves of the prefecture's special variety of green tea "Sayama Kaori (Sayama Flavor)" at a tea plantation next to the Iruma city government office in Iruma, Saitama Prefecture, on May 1. (Mainichi)
IRUMA, Saitama -- "New Sayama Tea" festivals were held across the green tea producing region in southwestern Saitama Prefecture on May 1, the 88th day of spring, with five promotion women, wearing casual kimono with splashed patterns and a rosy sash, picking up fresh tea leaves of the prefecture's special variety "Sayama Kaori (Sayama Flavor)" at a tea plantation next to the Iruma city government office.
Tea producers in this region were forced to suspend shipments of their tea products last year due mainly to contamination from radioactive substances from the crippled Fukushima No. 1 Nuclear Power Plant. This year, the tea growers highlight the safety of their products to consumers by checking their products in three stages -- when they are raw, after they are dried and after they are processed into final products to be put on the market.
Sadao Okauchi, chairman of the Iruma Tea Industry Society, said, "We will definitely ship only safe products. I want everyone to enjoy the flavor of our tea without anxiety."
Sayama Tea is widely regarded as one of the top-three Japanese tea brands. It is said that "Sayama provides the best taste of green tea while Uji provides the best flavor and Shizuoka the best color."