January 12, 2013
Nuclear watchdog to make secondary control rooms mandatory at power plants
http://ajw.asahi.com/article/0311disaster/fukushima/AJ201301120044
The Nuclear Regulation Authority will require nuclear power plants to install secondary control rooms for reactor operations to guard against accidents from earthquakes, tsunami or acts of terrorism.
An NRA expert panel revealed the plan Jan. 11 in a draft outline of new safety measures.
The draft proposes obligatory "second control rooms," apart from existing central operation rooms, to enable access to remote controls to cool down nuclear reactors and vent gases.
The NRA plans to finalize the outline by the end of January and formulate a new set of safety standards for nuclear power plants in July. The new standards will be used in subsequent NRA decisions on whether idle nuclear reactors can be restarted.
The proposed secondary control rooms are part of new "safety facilities" capable of withstanding earthquakes and tsunami, which nuclear plant operators will be required to install at a distance from reactor buildings. The safety facilities will also include emergency power supply systems and cooling pumps, which will be able to help contain the spread of potential nuclear disasters.
Similar facilities are already in place at nuclear plants in Germany, Switzerland and elsewhere.
As the new facilities will need time to be installed, the NRA plans to determine a transitional exemption period and give the green light to reactor restarts if only their operators have presented plans to install the safety facilities.
The new standards will also require the utilities to have power trucks and fire engines parked and ready for emergency use at strategic places on site. Power utilities have already voluntarily stationed them at nuclear plants as part of emergency safety measures since the Fukushima nuclear disaster of March 2011.
The NRA will also press nuclear plant operators to install central anti-seismic buildings, which can withstand earthquakes and tsunami, and filtered vent equipment, which will prevent bulk releases of radioactive substances, at all nuclear plants.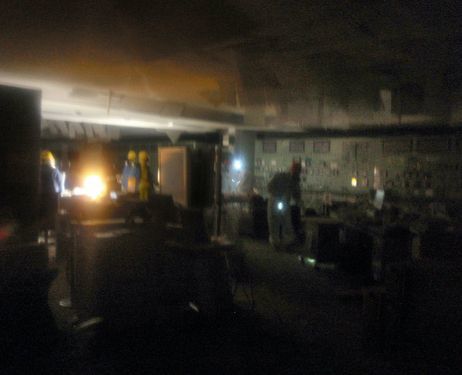 A central control room for the No. 1 and No. 2 reactors of the Fukushima No. 1 nuclear power plant on March 23, 2011 (Provided by the Nuclear and Industrial Safety Agency)