August 23, 2012
Cesium-laden fish may point to ocean hot spots
http://www.japantimes.co.jp/text/nn20120823a2.html
By MIZUHO AOKI
Staff writer
A record-high 25,800 becquerels per kilogram of radioactive cesium has been detected in fish caught within 20 km of the Fukushima No. 1 nuclear plant, according to Tokyo Electric Power Co., indicating there may be hot spots under the sea that need further investigation.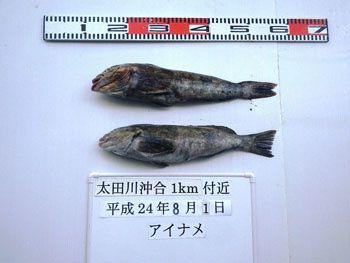 That level is 258 times the government limit for safe consumption. The cesium was found in two "ainame" (greenlings) caught Aug. 1 at a depth of 15 meters, Tepco said Tuesday. It was the most cesium found among seafood samples so far.
A person could get a dose of 0.08 millisieverts by eating 200 grams of the greenlings, Tepco said. A cumulative dose of 100 millisieverts increases the risk of dying from cancer by 0.5 percent.
Greenling are bottom fish that live around rock reefs in coastal waters.
Tepco said it will check further for contamination of greenling and sea creatures that bottom fish feed on, including crabs and prawns.
The utility will also examine soil from the nearby seabed to try to ascertain the reason behind the extremely high contamination level, spokesman Junichi Matsumoto said, adding, "One possible reason is that there is some kind of hot spot (on the sea floor and the contamination in the fish) got this high by eating crabs and prawns that live there."
Overall contamination levels in fish near the surface and at medium depths have been declining, the Fisheries Agency said.
However, relatively high levels of radioactive cesium continue to be detected in bottom fish, such as greenling and flounder, and in fresh water fish regardless of their usual depth, an agency official said.
The Fukushima Prefectural Federation of Fisheries Cooperative Associations resumed sales in June of two types of octopus — "mizu-dako" and "yanagi-dako" — and a shellfish called "shiraitomaki-bai."
In general, cesium accumulates far less in octopus, squid and shellfish than in ocean fish and none has been found in samples the cooperative collected.
August 22, 2012
Record high cesium detected in fish in sea around Fukushima plant
http://mainichi.jp/english/english/newsselect/news/20120822p2g00m0dm030000c.html
TOKYO (Kyodo) -- Tokyo Electric Power Co. said Tuesday that it has detected a record high 25,800 becquerels per kilogram of radioactive cesium in fish sampled within a 20-kilometer range of the crippled Fukushima Daiichi nuclear power plant.
The level of cesium found in greenling is 258 times that deemed safe for consumption by the Japanese government, suggesting that radioactive contamination remains serious more than a year after the nuclear crisis.
Fishing in the sea off Fukushima Prefecture is voluntarily restricted except for trial fishing of certain octopuses, so such contaminated fish would not be distributed in markets.
According to the Fisheries Agency, the previous record of radioactive contamination in fish was 18,700 Bq/kg detected in cherry salmon.
According to the owner of the Fukushima plant, located on the Pacific Coast, two greenlings caught on Aug. 1 at a depth of 15 meters were used for the survey. The agency also checked the fish and detected the same density level.